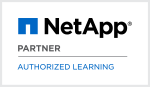 ONTAP Cluster Administration (ONTAP9ADM) (9.7)
Who should attend
Network Engineers
Channel Partners
System Engineers
NetApp Customers
Certifications
This course is part of the following Certifications:
Prerequisites
!

NA-OCFWBT

!

NA-ONFWBT

!

NA-OSFWBT
Introduction to Networking in Clustered Data ONTAP (WBT)
Course Objectives
Manage ONTAP administrators
Configure and manage storage resources
Configure and manage networking resources
Create and configure a storage virtual machine (SVM)
Create and manage FlexVol volumes
Implement storage efficiency features
Create protocol servers within an SVM
Configure basic data protection features
Perform administrative and preventive maintenance tasks
Follow On Courses
Course Content
This three-day, instructor-led course uses lecture and hands-on exercises to teach the basic administration tasks of an ONTAP 9.7 cluster. You use the cluster shell and ONTAP System Manager to manage storage and network resources. ONTAP Cluster Administration is an intermediate course in a comprehensive learning path for NetApp customers, partners, and employees. This course is generally taught with the two-day ONTAP Data Protection course.
Classroom Training
Dauer 3 Tage
Preis
(exkl. MwSt.)
Schweiz:

CHF 3'510.-

NetApp Training Units:

36 NTU
inkl. Verpflegung
Verpflegung umfasst:
Kaffee, Tee, Saft, Wasser, Cola
Gebäck und Süssigkeiten
Frisches Obst
Mittagessen in einem der naheliegenden Restaurants
Gilt nur bei Durchführung durch Fast Lane. Termine, die von unseren Partnern durchgeführt werden, beinhalten ggf. ein abweichendes Verpflegungsangebot.
Digitale Kursunterlagen
Kurstermine
Garantietermin: Kursdurchführung unabhängig von der Teilnehmerzahl garantiert. Ausgenommen sind unvorhersehbare Ereignisse (z.B. Unfall, Krankheit des Trainers), die eine Kursdurchführung unmöglich machen.
Instructor-led Online Training: Dies ist ein Instructor-led Online Training, das über WebEx in einer VoIP Umgebung durchgeführt wird. Sollten Sie Fragen zu einem unserer Online-Kurse haben, können Sie uns jederzeit unter +41 44 832 50 80 oder per E-Mail an info@flane.ch kontaktieren.
Internationale Garantietermine
Wien (iTLS)
Zeitzone: Mitteleuropäische Sommerzeit (MESZ)
FLEX & Online Training
Weiter unten finden Sie alternativ unsere Kurse mit FLEX-Option in englischer Sprache
Deutschland