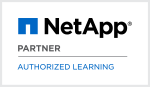 ONTAP Data Protection Administration (DATAPROT9) (9.8)
Who should attend
Network Engineers
Channel Partners
System Engineers
NetApp Customers
Certifications
This course is part of the following Certifications:
Course Objectives
This course focuses on enabling you to do the following:
Identify the data protection features in NetApp ONTAP software
Configure SnapMirror relationships for disaster recovery and data backup
Demonstrate SVM DR
Explain MetroCluster software components and functionality
Describe SnapMirror Business Continuity components and functionality
Describe NDMP-enabled operations to back up NAS data to tape
Identify the cloud-based data protection solutions that NetApp offers
Course Content
This intermediate-level course introduces key concepts and techniques for protecting data on NetApp® ONTAP® based systems. You learn about the data protection solutions that are integrated in ONTAP software. You also learn about tools for managing ONTAP data protection features. In hands-on exercises, you use ONTAP System Manager and the ONTAP CLI to perform key data protection tasks. This course is updated for ONTAP 9.8 software.
Classroom Training
Dauer 2 Tage
Preis
(exkl. MwSt.)
Schweiz:

CHF 2'340.–

NetApp Training Units:

24 NTU
inkl. Verpflegung
Verpflegung umfasst:
Kaffee, Tee, Saft, Wasser, Cola
Gebäck und Süssigkeiten
Frisches Obst
Mittagessen in einem der naheliegenden Restaurants
Gilt nur bei Durchführung durch Fast Lane. Termine, die von unseren Partnern durchgeführt werden, beinhalten ggf. ein abweichendes Verpflegungsangebot.
Digitale Kursunterlagen
Kurstermine
Deutsch
Zeitzone Mitteleuropäische Sommerzeit (MESZ)
Englisch