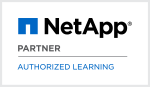 ONTAP Data Protection Administration (DATAPROT9) (9.7)
Who should attend
Network Engineers
Channel Partners
System Engineers
NetApp Customers
Certifications
This course is part of the following Certifications:
Course Objectives
Describe the data protection features in ONTAP software
Configure SnapMirror® relationships for data replication
Demonstrate storage virtual machine disaster recovery (SVM DR)
Explain MetroCluster™ components and configuration
Configure the SnapVault® feature for disk-to-disk backup and recovery
Describe NDMP-enabled operations to back up NAS data to tape storage
Describe the NetApp SnapCenter® software that is used for ONTAP data protection management
Explain cloud-based data protection with NetApp Cloud Volumes ONTAP
Course Content
This course introduces some of the key concepts and techniques for protecting data on NetApp® ONTAP® systems. You learn about the different data protection solutions that are integrated in ONTAP software. You also learn about the tools for managing ONTAP data protection features. In the hands-on exercises, you use ONTAP System Manager and the CLI to execute key data protection tasks. This course is updated for ONTAP 9.7.
Classroom Training
Dauer 2 Tage
Preis
(exkl. MwSt.)
Schweiz:

CHF 2'340.-

NetApp Training Units:

24 NTU
inkl. Verpflegung
Verpflegung umfasst:
Kaffee, Tee, Saft, Wasser, Cola
Gebäck und Süssigkeiten
Frisches Obst
Mittagessen in einem der naheliegenden Restaurants
Gilt nur bei Durchführung durch Fast Lane. Termine, die von unseren Partnern durchgeführt werden, beinhalten ggf. ein abweichendes Verpflegungsangebot.
Digitale Kursunterlagen
Kurstermine
Garantietermin: Kursdurchführung unabhängig von der Teilnehmerzahl garantiert. Ausgenommen sind unvorhersehbare Ereignisse (z.B. Unfall, Krankheit des Trainers), die eine Kursdurchführung unmöglich machen.
Instructor-led Online Training: Dies ist ein Instructor-led Online Training, das über WebEx in einer VoIP Umgebung durchgeführt wird. Sollten Sie Fragen zu einem unserer Online-Kurse haben, können Sie uns jederzeit unter +41 44 832 50 80 oder per E-Mail an info@flane.ch kontaktieren.
Internationale Garantietermine
Paris
Zeitzone: Mitteleuropäische Sommerzeit (MESZ)
FLEX & Online Training
Weiter unten finden Sie alternativ unsere Kurse mit FLEX-Option in englischer Sprache
Deutschland