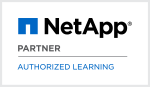 ONTAP Cluster Administration (ONTAP9ADM) (9.7)
Who should attend
Network Engineers
Channel Partners
System Engineers
NetApp Customers
Certifications
This course is part of the following Certifications:
Prerequisites
!

!

!

Introduction to Networking in Clustered Data ONTAP (WBT)
Course Objectives
Manage ONTAP administrators
Configure and manage storage resources
Configure and manage networking resources
Create and configure a storage virtual machine (SVM)
Create and manage FlexVol volumes
Implement storage efficiency features
Create protocol servers within an SVM
Configure basic data protection features
Perform administrative and preventive maintenance tasks
Follow On Courses
Course Content
This three-day, instructor-led course uses lecture and hands-on exercises to teach the basic administration tasks of an ONTAP 9.7 cluster. You use the cluster shell and ONTAP System Manager to manage storage and network resources. ONTAP Cluster Administration is an intermediate course in a comprehensive learning path for NetApp customers, partners, and employees. This course is generally taught with the two-day ONTAP Data Protection course.
Online Training
Duration 3 days
Price
(excl. VAT)
CHF 2,970.-

NetApp Training Units:

36 NTU
Digital courseware
Schedule
English
Time zone Central European Time (CET)
Online Training
This is an English language FLEX course.


Time zone: Central European Summer Time (CEST)
1 hour difference
6 hours difference
7 hours difference
9 hours difference
10 hours difference
Online Training
Time zone: Australian Eastern Daylight Saving Time (AEDT)
Guaranteed date!
German
Time zone Central European Time (CET)
French
Time zone Central European Time (CET)
Online Training
This is an English language FLEX course.


Time zone: Central European Summer Time (CEST)
Online Training
This is an English language FLEX course.


Time zone: Central European Summer Time (CEST)
Online Training
This is an English language FLEX course.


Time zone: Central European Summer Time (CEST)
Online Training
This is an English language FLEX course.


Time zone: Central European Summer Time (CEST)
Online Training
This is an English language FLEX course.


Time zone: Central European Summer Time (CEST)
Online Training
This is an English language FLEX course.


Time zone: Central European Time (CET)
Italian
Time zone Central European Time (CET)
Online Training
This is an English language FLEX course.


Time zone: Central European Summer Time (CEST)
Online Training
This is an English language FLEX course.


Time zone: Central European Summer Time (CEST)
Online Training
This is an English language FLEX course.


Time zone: Central European Summer Time (CEST)
Online Training
This is an English language FLEX course.


Time zone: Central European Time (CET)