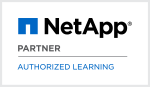 ONTAP Compliance Solution Administration (OCSA)
Zielgruppe
Data Protection Administrations
Security Engineers
NetApp Partners
NetApp Employees
Voraussetzungen
Kursziele
Describe the data protection features that are integrated into ONTAP 9 data-management software
Describe how to use SnapLock compliance software for data retention
Explain how to manage encryption keys
Explain how NetApp Storage Encryption (NSE) provides full-disk encryption (FDE) by using self-encrypting drives.
Explain how NetApp Volume Encryption (NVE) provides a software-based method to encrypt and protect data on any disk type.
Kursinhalt
The ONTAP Security and Compliance course describes the architecture and functionality of the integrated data protection security and compliance features and benefits in ONTAP 9 data-management software, including SnapLock software, key management features, and encryption technologies. The course also explains the administration, configuration, and management of the integrated data protection compliance features.
ONTAP Security and Compliance Solutions Administration is intended for data protection administrators of any experience level
Zum Buchen bitte auf den Ortsnamen klicken
Kurstermine
Mit der nächsten Buchung wird dieser Termin zu einem Garantietermin.
Dies ist ein Instructor-led Online Training, das über WebEx in einer VoIP Umgebung durchgeführt wird. Sollten Sie Fragen zu einem unserer Online-Kurse haben, können Sie uns jederzeit unter +49 (0)40 25334610 oder per E-Mail an info@flane.de kontaktieren.
Dies ist ein
FLEX
™-Kurs. Sie können an einem
FLEX
Training sowohl bei uns vor Ort im Klassenraum als auch über das Internet von Ihrem Arbeitsplatz oder von zu Hause aus teilnehmen.
FLEX™ Training
Please see below our alternative, English language, FLEX™ course option
14.09.2020
FLEX™ Training
Dies ist ein FLEX™-Kurs in englisch.


Zeitzone: Europe/Sofia
23.11.2020
FLEX™ Training
Dies ist ein FLEX™-Kurs in englisch.


Zeitzone: Europe/Zagreb
30.11.2020
FLEX™ Training
Dies ist ein FLEX™-Kurs in englisch.


Zeitzone: Europe/London
Deutschland
Österreich