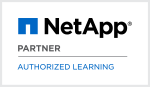 ONTAP Data Protection Administration (DATAPROT9) (9.7)
Who should attend
Network Engineers
Channel Partners
System Engineers
NetApp Customers
Certifications
This course is part of the following Certifications:
Course Objectives
Describe the data protection features in ONTAP software
Configure SnapMirror® relationships for data replication
Demonstrate storage virtual machine disaster recovery (SVM DR)
Explain MetroCluster™ components and configuration
Configure the SnapVault® feature for disk-to-disk backup and recovery
Describe NDMP-enabled operations to back up NAS data to tape storage
Describe the NetApp SnapCenter® software that is used for ONTAP data protection management
Explain cloud-based data protection with NetApp Cloud Volumes ONTAP
Course Content
This course introduces some of the key concepts and techniques for protecting data on NetApp® ONTAP® systems. You learn about the different data protection solutions that are integrated in ONTAP software. You also learn about the tools for managing ONTAP data protection features. In the hands-on exercises, you use ONTAP System Manager and the CLI to execute key data protection tasks. This course is updated for ONTAP 9.7.
Online Training
Duration 2 days
Price
(excl. VAT)
CHF 1,980.-

NetApp Training Units:

24 NTU
Digital courseware
Schedule
English
Time zone Central European Time (CET)
Online Training
This is an English language FLEX course.


Time zone: Central European Summer Time (CEST)
1 hour difference
6 hours difference
7 hours difference
9 hours difference
10 hours difference
Online Training
Time zone: Australian Eastern Daylight Saving Time (AEDT)
Guaranteed date!
German
Time zone Central European Time (CET)
French
Time zone Central European Time (CET)
Online Training
This is an English language FLEX course.


Time zone: Central European Summer Time (CEST)
Online Training
This is an English language FLEX course.


Time zone: Central European Summer Time (CEST)
Online Training
This is an English language FLEX course.


Time zone: Central European Time (CET)
Italian
Time zone Central European Time (CET)
Online Training
This is an English language FLEX course.


Time zone: Central European Summer Time (CEST)
Online Training
This is an English language FLEX course.


Time zone: Central European Summer Time (CEST)
Online Training
This is an English language FLEX course.


Time zone: Central European Summer Time (CEST)
Online Training
This is an English language FLEX course.


Time zone: Central European Time (CET)