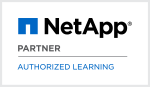 ONTAP Troubleshooting (CATSP)
Course Overview
In this Partner-only course, you increase your proficiency as a NetApp® ONTAP® software engineer by learning how to troubleshoot ONTAP environments. Specifically, you learn how to troubleshoot the management component, scale-out networking, NAS protocols (NFS and SMB), and SAN protocols (iSCSI). From lectures, demonstrations, and active exercises, you learn how to isolate issues, verify configurations, view logs, view trace messages, and use event management system messages for troubleshooting.
Who should attend
NetApp Technical Support engineers, NetApp Support Services Certified partner engineers, and NetApp Professional Services engineers
Certifications
This course is part of the following Certifications:
Prerequisites
A working knowledge of ONTAP software and NAS and SAN protocols
Course Objectives
Describe the different software components in the ONTAP architecture
Describe the methodologies for troubleshooting management component applications, networks, and protocols
Use troubleshooting workflows to identify failure symptoms, determine potential causes, and resolve issues
Use debugging commands, logs, and tools to identify, isolate, and fix complex technical issues that involve different core components
Check the health of a cluster and summarize the results
Identify issues with the management component
Use administrative commands to verify the configuration of NFS, SMB, and iSCSI
Use the troubleshooting methodology for NFS, SMB, and iSCSI to define and isolate issues
Locate logs for the management component, network, NFS, SMB, and iSCSI protocols
Collect data for support cases
Classroom Training
Dauer 4 Tage
inkl. Verpflegung
Verpflegung umfasst:
Kaffee, Tee, Saft, Wasser, Cola
Gebäck und Süssigkeiten
Frisches Obst
Mittagessen in einem der naheliegenden Restaurants
Gilt nur bei Durchführung durch Fast Lane. Termine, die von unseren Partnern durchgeführt werden, beinhalten ggf. ein abweichendes Verpflegungsangebot.
Digitale Kursunterlagen
Kurstermine
Instructor-led Online Training: Dies ist ein Instructor-led Online Training, das über WebEx in einer VoIP Umgebung durchgeführt wird. Sollten Sie Fragen zu einem unserer Online-Kurse haben, können Sie uns jederzeit unter +41 44 832 50 80 oder per E-Mail an info@flane.ch kontaktieren.
FLEX & Online Training
Weiter unten finden Sie alternativ unsere Kurse mit FLEX-Option in englischer Sprache
Deutschland
Hamburg
Dies ist ein FLEX-Kurs in Deutsch.


Zeitzone: Mitteleuropäische Sommerzeit (MESZ)
Hamburg
Dies ist ein FLEX-Kurs in Deutsch.


Zeitzone: Mitteleuropäische Zeit (MEZ)
Hamburg
Dies ist ein FLEX-Kurs in Deutsch.


Zeitzone: Mitteleuropäische Zeit (MEZ)
München
Dies ist ein FLEX-Kurs in Deutsch.


Zeitzone: Mitteleuropäische Sommerzeit (MESZ)
Europa
Frankreich
Grossbritannien
London, City
Dies ist ein FLEX-Kurs in Englisch.


Zeitzone: British Summer Time (BST)