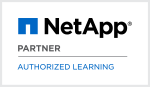 ONTAP Performance Analysis (PERFCDOT)
Zielgruppe
Professionals who manage NetApp storage systems and would like a deeper understanding of Clustered Data ONTAP system performance
Voraussetzungen
Kursziele
Describe how data flows through the network and protocol layers of clustered Data ONTAP
Define performance-related terms and describe basic methodologies
Identify the methods that can be used to monitor and analyze storage system performance
Explain how methods and tools can be used to collect performance data
Use command output to analyze system performance
Use command output from case studies to identify performance bottlenecks
Implement configuration for recommended practices for resiliency and performance
Locate resources and information that help you maximize system performance
Kursinhalt
For those students who are looking for more in-depth knowledge on managing performance on Clustered Data ONTAP after completing DCADM should consider PERFCDOT. This course will teach students to use available tools such as system commands and NetApp OnCommand to collect and monitor performance data. Students will learn to use this data to identify and implement system changes that improve the efficiency of the system. Hands-on labs, case-studies, and technical discussions will take place throughout this 2-day course.
Zum Buchen bitte auf den Ortsnamen klicken
Kurstermine
Fast Lane wird alle garantierten Termine unabhängig von der Teilnehmerzahl durchführen. Ausgenommen sind höhere Gewalt oder andere unvorhersehbare Ereignisse (wie z.B. Unfall, Krankheit des Trainers), die eine Kursdurchführung unmöglich machen.
Mit der nächsten Buchung wird dieser Termin zu einem Garantietermin.
Dies ist ein Instructor-led Online Training, das über WebEx in einer VoIP Umgebung durchgeführt wird. Sollten Sie Fragen zu einem unserer Online-Kurse haben, können Sie uns jederzeit unter +49 (0)40 25334610 oder per E-Mail an info@flane.de kontaktieren.
Dies ist ein
FLEX
™-Kurs. Sie können an einem
FLEX
Training sowohl bei uns vor Ort im Klassenraum als auch über das Internet von Ihrem Arbeitsplatz oder von zu Hause aus teilnehmen.
Internationale Garantietermine
Nordamerika
USA
29.08. - 31.08.2018
Online Training
Zeitzone: US/Central
Kurssprache: englisch
Garantietermin!
03.10. - 05.10.2018
Online Training
Zeitzone: US/Central
Kurssprache: englisch
24.10. - 26.10.2018
Online Training
Zeitzone: US/Central
Kurssprache: englisch
Kanada
29.08. - 31.08.2018
Online Training
Zeitzone: Canada/Central
Kurssprache: englisch
24.10. - 26.10.2018
Online Training
Zeitzone: Canada/Central
Kurssprache: englisch
Asien & Pazifik