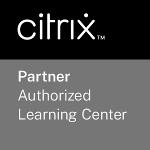 Citrix Virtual Apps and Desktops 7 Assessment, Design and Advanced Configuration (CWS-415)
Kursüberblick
Dieser Kurs behandelt die Entwurfsprinzipien für die Erstellung einer praktischen Citrix Virtual Apps and Desktops-Virtualisierungslösung.
Sie lernen, die vorhandene Umgebungen zu bewerten und erarbeiten verschiedene Szenarien um die Anforderungen der Geschäftsprozesse mit Designentscheidungen zu verlinken.
Dieser Kurs folgt dem Citrix Consulting Ansatz und bringt Ihnen die Schlüssel-Designentscheidungen durch Vorträge, Laborübungen und interaktive Diskussionen näher.
Darüber hinaus lernen Sie auch weitere Überlegungen und erweiterte Konfigurationen bezüglich Lösungen mit mehreren Standorten sowie der Disaster Recovery-Planung kennen.
Zielgruppe
Dieser Kurs richtet sich an IT-Experten mit langjähriger Erfahrung in Citrix Virtual Apps and Desktops 7.x sowie in unterstützender Infrastruktur.
Dieses Training eignet sich, wenn Sie für das Design und overall health der Strukturen zuständig sind oder Andere als Consultant durch die Prozesse dieser führen.
Zertifizierungen
Empfohlenes Training für die Zertifizierung zum:
Voraussetzungen
Umfangreiche Erfahrung mit Citrix Virtual Apps and Desktops 7.x
Erfahrungen mit Citrix Gateway und unterstützender Infrastruktur
Zusätzlich empfiehlt Citrix den vorherigen Besuch der folgenden Kurse bzw. Lernpfade vor Teilnahme an dem Kurs CWS-415:
ODER
Kursinhalt
Methodology & Assessment
User Layer
Access Layer
Resource Layer – Images
Resource Layer - Applications and Personalization
Control Layer
Hardware/Compute Layer
Maintaining an App Layering Environment
Disaster Recovery
Classroom Training
Dauer 5 Tage
inkl. Verpflegung
Verpflegung umfasst:
Kaffee, Tee, Saft, Wasser, Cola
Gebäck und Süssigkeiten
Frisches Obst
Mittagessen in einem der naheliegenden Restaurants
Gilt nur bei Durchführung durch Fast Lane. Termine, die von unseren Partnern durchgeführt werden, beinhalten ggf. ein abweichendes Verpflegungsangebot.
Digitale Kursunterlagen
E-Learning
Dauer 90 Tage
E-Learning kaufen
Kurstermine
Deutsch
Zeitzone: Mitteleuropäische Zeit (MEZ)
Englisch
Zeitzone: Mitteleuropäische Zeit (MEZ)
Italienisch
Zeitzone: Mitteleuropäische Zeit (MEZ)
Instructor-led Online Training: Dies ist ein Instructor-led Online Training, das über WebEx in einer VoIP Umgebung durchgeführt wird. Sollten Sie Fragen zu einem unserer Online-Kurse haben, können Sie uns jederzeit unter +41 44 832 50 80 oder per E-Mail an info@flane.ch kontaktieren.