DO180 Detaillierte Beschreibung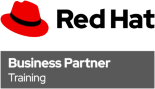 Red Hat OpenShift I: Containers & Kubernetes (DO180)
Detaillierter Kursinhalt
Kurseinführung
Einführung und Überblick über die Inhalte des Kurses.
Erste Schritte mit Container-Technologien
Wie Software in mit Red Hat OpenShift Container Platform orchestrierten Containern ausgeführt werden kann.
Entwicklung containerisierter Dienste
Einen Server mittels Container-Technologie bereitstellen.
Verwaltung von Containern
Vordefinierte Container-Images zwecks Erstellung und Verwaltung containerisierter Dienste bearbeiten
Verwaltung von Container-Images
Den Lifecycle eines Container-Images von der Erstellung bis zur Löschung verwalten
Erstellung benutzerdefinierter Container-Images
Ein Dockerfile für den Aufbau eines benutzerdefinierten Container-Images entwerfen und programmieren.
Bereitstellung containerisierter Anwendungen auf OpenShift Container Platform
Einzelne containerisierte Anwendungen auf OpenShift Container Platform bereitstellen.
Bereitstellung von Multi-Container-Anwendungen
Containerisierte Anwendungen mithilfe mehrerer Container-Images bereitstellen.
Behebung von Problemen bei Container-basierten Anwendungen
Probleme bei containerisierten Anwendungen auf OpenShift Container Platform beheben.
Umfassende Aufarbeitung des Kurses Introduction to Containers, Kubernetes and Red Hat OpenShift
Die Containerisierung einer Software-Anwendung, das Testen mit Docker und die Bereitstellung auf einem Red Hat OpenShift Cluster demonstrieren.