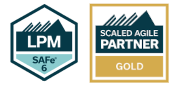 SAFe® Lean Portfolio Management (LPM)
Course Overview
Create a culture of innovation, flexibility, and speed where all people in the portfolio can effectively execute as one, unified team.
In this course, you will gain the practical tools and techniques necessary to implement the Lean Portfolio Management functions of Strategy and Investment Funding, Agile Portfolio Operations, and Lean Governance.
You will have the opportunity to capture the current and future state of the portfolio with the Portfolio Canvas tool and identify important business initiatives for achieving the future state. You'll be able to establish portfolio flow with the Portfolio Kanban and prioritize initiatives for maximum economic benefit. The course also provides insights on how to establish Value Stream Budgets and Lean Budget Guardrails and measure the Lean portfolio performance.
Who should attend
This course is designed for leaders and influencers who are responsible for the Lean Portfolio Management function. Examples include:
Executives and leaders (CIOs, CEOs, CFOs, CTOs, and VPs)
Enterprise architects
Product managers and solution managers
Business unit managers
Program office personnel
SPCs and enterprise Agile coaches
Human resources
RTEs
Epic Owners
Prerequisites
All are welcome to attend the course without prior knowledge. However, the following recommendations will make the training more productive:
Familiarity with Agile concepts and principles
Attended a Leading SAFe® or SAFe® PO/PM course
Experience working in a SAFe environment
Course Objectives
Describe the importance of LPM
Connect the portfolio to enterprise strategy
Implement Lean budgeting and guardrails
Establish portfolio flow with the Portfolio Kanban
Support operational excellence with APMO and CoPs
Coordinate Value Streams
Measure the LPM performance
Build a plan for LPM implementation
Online Training
Duration 3 days
Classroom Training
Duration 3 days
incl. catering
Catering includes:
Coffee, Tea, Juice, Water, Soft drinks
Pastry and Sweets
Fresh fruits
Lunch in a nearby restaurant
* Catering information only valid for courses delivered by Fast Lane.
Schedule
English
Time zone: Central European Summer Time (CEST)
Instructor-led Online Training: This computer icon in the schedule indicates that this date/time will be conducted as Instructor-Led Online Training.