Training and Conference Rooms Rental
In Zurich our training centers offer training and conference rooms featuring state-of-the-art networked equipment. These facilities provide all the support you need to stage events to satisfy professional demands. We're happy to accommodate your wishes regarding room size, event timing and duration, equipment, and technical support. All facilities are equipped with a beamer and PCs with Internet access.
Room Equipment:
Trainer-Workstation / Server

maximal 20 TN-Workstations

Standard Installation: Windows XP / Office 2003

High Speed Internet Access

Beamer

Flipchart / Whitebord

Internet Access for Notebooks
Location:
central Position of Glattzentrum Wallisellen/Zürich

best Accessibility (Airport/ Train and Bus)

free Parking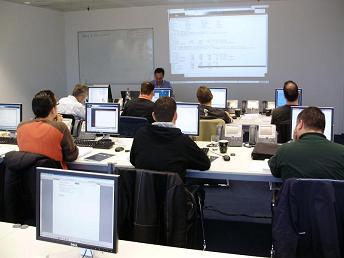 Call us. Simply let us know what you need, and we'll make you an offer without obligation on your part. You can reach us any time at +41 (0)44 832 50 80, Or you can fill in this contact form.contact form Give us your contact data and state your requirements, and we will get in touch with you as soon as possible.
Fast Lane Institute for Knowledge Transfer (Switzerland) AG
Glatt Com, 1. Etage (P12)
8301 Glattzentrum (Wallisellen/Zürich)
Schweiz


Telefon: +41 (0)44 832 50 80
Fax: +41 (0)44 832 50 85
info@flane.ch
www.flane.ch