Implementation Consulting
Support During Implementation and Integration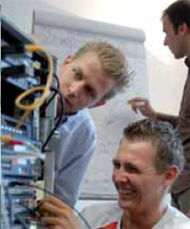 Our specialists team up with company's IT and IC experts to transform enterprise goals and visions into engineered solutions. Our seasoned project managers see to it that network projects are completed on time and within budget. We migrate legacy topology to new network designs smoothly, with minimum downtime and maximum user support.
Our offering includes:
Project management
Site assessment and site requirements specification
Equipment preparation and installation coordination
Configuration, testing and documentation
Commissioning and smooth migration
On-the-job training and specialist qualification
Ask Us
Feel free to get in touch if you have any questions about our range of consulting services; we'll be delighted to answer them.
Call +41 (0)44 832 50 80 or send an e-mail any time to info@flane.ch to reach us.