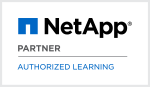 Integrating Hybrid Clouds with NetApp Data Fabric (INTHCDF)
Who should attend
NetApp Employees, Partners and Customers
Certifications
This course is part of the following Certifications:
Prerequisites
General understanding of AWS architecture
Basic computer networking knowledge
Cloud Volumes ONTAP Fundamentals
Course Objectives
This course focuses on enabling you to do the following:
Describe the Data Fabric vision.
Explain the hierarchy and functionality of Cloud Data Services.
Describe use cases for Cloud Volumes ONTAP, Cloud Sync and Cloud Volumes Service.
Configure an AWS Virtual Private Cloud (VPC) and connect it to an on-premises data center using VPN IPSec.
Configure an Azure Virtual Network (VNet) and connect it to an on-premises data center using VPN IPSec
Leveraging Cloud Central, install OnCommand Cloud Manager (OCCM) to deploy Cloud Volumes ONTAP and to manage and move data in the Data Fabric.
Describe Cloud Volumes ONTAP HA functionality.
Implement data tiering to AWS S3 for Cloud Volumes ONTAP.
Implement Cloud Sync service to enable seamless and secure synchronization of data between on-premises storage and AWS Simple Storage Service (S3).
Implement the Cloud Volumes service, including mounting, providing data access, restoring data and using APIs to manage Cloud Volumes.
Follow On Courses
Course Content
In this course, you will learn how to implement a hybrid cloud solution using the NetApp Data Fabric. In the hybrid cloud solution, you learn how to connect hyperscalers and on-premises data centers. You also learn about various NetApp Cloud Data Services, including Cloud Volumes, Cloud Volumes ONTAP, Cloud Sync and Cloud Insights and how they operate in the Data Fabric. You get hands on experience with Cloud Volumes ONTAP, Cloud Sync and Cloud Volumes, as well as with the AWS and Azure clouds.
This course prepares you for the NCHC-Administration Certification
Online Training
Duration 3 days
Price
(excl. VAT)
CHF 2,970.-

NetApp Training Units:

36 NTU
Digital courseware
Schedule
Guaranteed date: Fast Lane will carry out all guaranteed training regardless of the number of attendees, exempt from force majeure or other unexpected events, like e.g. accidents or illness of the trainer, which prevent the course from being conducted.
Instructor-led Online Training: This computer icon in the schedule indicates that this date/time will be conducted as Instructor-Led Online Training.
This is a
FLEX
course, which is delivered both virtually and in the classroom. Please note, local pricing is applicable.