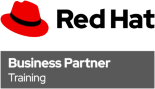 Red Hat Application Development I: Programming in Java EE with Exam (EX183) (JB184)
Zielgruppe
Dieser Kurs wurde für Java-Entwickler entwickelt, die mehr über die technischen Einzelheiten erfahren möchten, die die Welt der Java Enterprise Edition (Java EE) ausmachen.
Voraussetzungen
Fähigkeit zur Entwicklung von Java SE-Anwendungen, mehr als zwei Jahre Erfahrung erforderlich
Fähigkeit zur Verwendung von IDE wie Red Hat Developer Studio oder Eclipse
Erfahrung mit Maven wird empfohlen, ist jedoch nicht zwingend erforderlich
Kursziele
Auswirkungen auf die Organisation
Dieser Kurs ist auf die Weiterentwicklung der Fähigkeiten ausgelegt, die für den Übergang von der Java SE-Programmierung zur Java EE-Programmierung erforderlich sind. Dieser Kurs stellt die Kernkonzepte von mehrschichtigen Java Enterprise-Anwendungen vor und lässt Sie Erfahrungen beim Schreiben, dem Einsatz und dem Testen von Java EE-Anwendungen sammeln. Sie werden verschiedene Tools aus dem Red Hat JBoss Middleware Portfolio verwenden, einschließlich JBoss Developer Studio, Maven und JBoss Enterprise Application Platform.
Red Hat hat diesen Kurs in erster Linie für seine Kunden entwickelt. Da aber jedes Unternehmen, jede Infrastruktur anders ist, kann es sein, dass die gezeigten Vorteile von Fall zu Fall variieren.
Auswirkungen auf den Einzelnen
Absolventen dieses Kurses Kurs sollten in der Lage sein, die meisten der Spezifikationen in Java EE 7 zu beschreiben und mit jeder Spezifikation eine Komponente zu erstellen. Sie werden in der Lage sein, ein Java SE-Programm in eine mehrschichtige Java EE-Anwendung umzuwandeln. Sie sollten in der Lage sein, folgende Aufgaben auszuführen:
Beschreiben der Architektur von mehrschichtigen Java EE-Anwendungen
Packen von Java EE-Anwendungen und deren Einsatz auf der Red Hat JBoss Enterprise Application Platform mit verschiedenen Tools
Erstellen einer Enterprise Java Beans-Instanz
Persistenzverwaltung von Daten mit dem Java Persistence API
Erstellen eines Webdienstes mit JAX-RS
Korrekte Anwendung von Kontextumfängen auf Beans und Einfügen von Ressourcen in Java Beans
Speichern und Abrufen von Nachrichten mit dem Java Messaging Service
Absichern einer Java EE-Anwendung
Kursinhalt
In diesem Kurs werden Sie die verschiedenen Einzelheiten kennen lernen, die Java EE ausmachen. Über praxisorientierte Labs werden Sie eine einfache Java SE-Befehlszeilenanwendung in eine mehrschichtige Unternehmensanwendung umwandeln. Dabei verwenden Sie verschiedene Java EE-Komponenten, einschließlich Enterprise Java Beans, Java Persistence API, Java Messaging Service, JAX-RS für REST Services, Contexts and Dependency Injection (CDI) und JAAS zur Absicherung der Anwendung. Überblick über den Kursinhalt
Erstellen von mehrschichtigen Java EE-Anwendungen
Packen und Einsatz von Java EE-Anwendungen
Erstellen von Enterprise Java Beans, einschließlich Message-gesteuerter Beans
Persistenzverwaltung
Erstellung von REST Services mit JAX-RS
Implementieren einer Contexts and Dependency Injection
Erstellen von Messaging-Anwendungen mit JMS
Absichern von Java EE-Anwendungen
Online Training
Dauer 5 Tage
Preis
(exkl. MwSt.)
Sprache der Kursunterlagen: Englisch
Classroom Training
Dauer 5 Tage
Preis
(exkl. MwSt.)
Sprache der Kursunterlagen: Englisch
Kurstermine
Schweiz
Zur Zeit sind keine Termine verfügbar. Fragen Sie an via info@flane.ch.
Deutschland