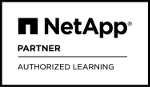 Implementing and Administering the FlexPod Solution (FPIMPADM)
Zielgruppe
The primary audience for this course is as follows:
Network engineers, Network administrators, System engineers and Server administrators
Zertifizierungen
Empfohlenes Training für die Zertifizierung zum:
Voraussetzungen
The knowledge and skills that a learner must have before attending this course are as follows:
General knowledge of networking technologies
CCNA / CCNP Data Center recommended
Basic understanding of NetApp storage operations; NetApp NCDA is recommended
Basic knowledge of server and server virtualization technologies such as VMware ESXi
Kursziele
Upon completing this course, the learner will be able to meet these overall objectives:
Describe the FlexPod solution
Describe the deployment use case
Describe network features
Describe storage networking features
Describe NetApp key features
Describe Cisco UCS compute
Describe compute node LAN connectivity
Describe identity, resource pools and policies
Describe service profiles and templates
Describe hypervisor and application solutions
Describe management and troubleshooting tools available for FlexPod components
Kursinhalt
FlexPod Implementation and Administration is a 3-day instructor-led course where you will learn to set up, configure and administer the FlexPod architecture. The course provides a comprehensive understanding of the configuration requirements for FlexPod at the network, storage and compute layers of the architecture. You will also learn key implementation procedures, management and basic troubleshooting tasks on the Cisco Nexus 9372, Cisco Unified Computing System (UCS) and NetApp storage.
Updated features:
Cisco Nexus 9372
Cisco UCS Director / Cisco UCS Central
OpenStack
Hyper-V
All Flash FAS
Classroom Training
Dauer 3 Tage
Preis
(exkl. MwSt.)
Schweiz:

CHF 2'970.–

NetApp Training Units:

36 NTU
inkl. Verpflegung
Verpflegung umfasst:
Kaffee, Tee, Saft, Wasser, Cola
Gebäck und Süssigkeiten
Frisches Obst
Mittagessen in einem der naheliegenden Restaurants
Gilt nur bei Durchführung durch Fast Lane. Termine, die von unseren Partnern durchgeführt werden, beinhalten ggf. ein abweichendes Verpflegungsangebot.
Digitale Kursunterlagen
Kurstermine
Englisch
Instructor-led Online Training: Dies ist ein Instructor-led Online Training, das über WebEx in einer VoIP Umgebung durchgeführt wird. Sollten Sie Fragen zu einem unserer Online-Kurse haben, können Sie uns jederzeit unter +41 44 832 50 80 oder per E-Mail an info@flane.ch kontaktieren.
Europa
Grossbritannien
London, City
Dies ist ein FLEX-Kurs in Englisch.


Zeitzone: British Summer Time (BST)
Kurssprache:

Englisch