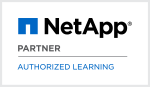 Designing the FlexPod Solution (FPDESIGN)
Im Kurspreis ist ein Voucher für ein NetApp Examen Ihrer Wahl enthalten.
Zielgruppe
Network Engineers
Network Administrators
System Engineers
Server Administrators
Zertifizierungen
Empfohlenes Training für die Zertifizierung zum:
Voraussetzungen
Basic understanding of storage operations
Basic knowledge of server and server virtualization
General knowledge of networking technologies
Kursziele
Describe the FlexPod Solution
Identify FlexPod Design Requirements
Identify the supported Cisco UCS components
Identify the supported NetApp storage components
Identify the supported Cisco Nexus components
Describe the FlexPod topology options
Describing FlexPod validated management solutions
Describe the FlexPod use case with VMware vSphere 6.0 and IP-Based Storage
Describe the FlexPod use case with Red Hat Enterprise Linux OpenStack
Weiterführende Kurse
Kursinhalt
Designing the FlexPod Solution is a 2-day instructor-led course where you will learn to evaluate the FlexPod solution design process with regard to the contemporary data center challenges. The course provides a comprehensive understanding of the reconnaissance and analytics assess computing solution performance characteristics and requirements. In addition, this course will describe the hardware components of the FlexPod and the process for selecting proper hardware for a given set of requirements.
Updated features:
Cisco UCS
Cisco ACI Architecture
Nexus 9k
Microsoft Hyper-V and VMware 6
Red Hat Linux OpenStack
All Flash FAS
Zum Buchen bitte auf den Ortsnamen klicken
Kurstermine
Mit der nächsten Buchung wird dieser Termin zu einem Garantietermin.
Dies ist ein Instructor-led Online Training, das über WebEx in einer VoIP Umgebung durchgeführt wird. Sollten Sie Fragen zu einem unserer Online-Kurse haben, können Sie uns jederzeit unter +49 (0)40 25334610 oder per E-Mail an info@flane.de kontaktieren.
Dies ist ein
FLEX
™-Kurs. Sie können an einem
FLEX
Training sowohl bei uns vor Ort im Klassenraum als auch über das Internet von Ihrem Arbeitsplatz oder von zu Hause aus teilnehmen.
Schweiz
Zur Zeit sind keine Termine verfügbar. Fragen Sie an via info@flane.ch.
FLEX™ Training
Please see below our alternative, English language, FLEX™ course option
03.06. - 04.06.2019
FLEX™ Training
Dies ist ein FLEX™-Kurs in englisch.


Zeitzone: Europe/Bratislava
15.07. - 16.07.2019
FLEX™ Training
Dies ist ein FLEX™-Kurs in englisch.


Zeitzone: Europe/London
23.09. - 24.09.2019
FLEX™ Training
Dies ist ein FLEX™-Kurs in englisch.


Zeitzone: Europe/Prague
04.11. - 05.11.2019
FLEX™ Training
Dies ist ein FLEX™-Kurs in englisch.


Zeitzone: Europe/London
11.11. - 12.11.2019
FLEX™ Training
Dies ist ein FLEX™-Kurs in englisch.


Zeitzone: Europe/Sofia
Österreich
Nordamerika
USA
13.05. - 14.05.2019
Online Training
Zeitzone: US/Pacific
Kurssprache: englisch
22.07. - 23.07.2019
Online Training
Zeitzone: US/Eastern
Kurssprache: englisch
16.09. - 17.09.2019
Online Training
Zeitzone: US/Central
Kurssprache: englisch
28.10. - 29.10.2019
Online Training
Zeitzone: US/Pacific
Kurssprache: englisch
16.12. - 17.12.2019
Online Training
Zeitzone: US/Eastern
Kurssprache: englisch
Kanada
16.09. - 17.09.2019
Online Training
Zeitzone: Canada/Central
Kurssprache: englisch
16.12. - 17.12.2019
Online Training
Zeitzone: Canada/Eastern
Kurssprache: englisch
Asien & Pazifik
Australien
13.06. - 14.06.2019
FLEX™ Training
Dies ist ein FLEX™-Kurs in englisch.


Zeitzone: Australia/Melbourne
08.08. - 09.08.2019
FLEX™ Training
Dies ist ein FLEX™-Kurs in englisch.


Zeitzone: Australia/Sydney
28.11. - 29.11.2019
FLEX™ Training
Dies ist ein FLEX™-Kurs in englisch.


Zeitzone: Australia/Melbourne
Indien
27.05. - 28.05.2019
FLEX™ Training
Dies ist ein FLEX™-Kurs in englisch.


Zeitzone: Asia/Calcutta
24.06. - 25.06.2019
FLEX™ Training
Dies ist ein FLEX™-Kurs in englisch.


Zeitzone: Asia/Calcutta
26.08. - 27.08.2019
FLEX™ Training
Dies ist ein FLEX™-Kurs in englisch.


Zeitzone: Asia/Calcutta
23.09. - 24.09.2019
FLEX™ Training
Dies ist ein FLEX™-Kurs in englisch.


Zeitzone: Asia/Calcutta
30.10. - 31.10.2019
FLEX™ Training
Dies ist ein FLEX™-Kurs in englisch.


Zeitzone: Asia/Calcutta
20.11. - 21.11.2019
FLEX™ Training
Dies ist ein FLEX™-Kurs in englisch.


Zeitzone: Asia/Calcutta