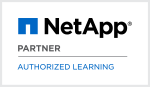 Basic NetApp Configuration and Administration (BNCA)
Zielgruppe
NetApp customers, IT generalists, and academic alliance students
Voraussetzungen
Storage Fundamentals WBT
Introduction to NetApp Products WBT
Kursziele
By the end of this course you should be able to:
Explain features of the Data ONTAP operating system
Use the CLI and OnCommand System Manager to identify storage components
Configure storage systems and storage virtual machines (SVMs) for NAS and SAN client access
Create FlexVol volumes, qtrees, and LUNs
Manage Snapshot copies and FlexClone software
Manage volume move and storage efficiency
Weiterführende Kurse
Kursinhalt
Learn how to configure the basic technologies of the NetApp Data ONTAP® operating system—clustered Data ONTAP and Data ONTAP operating in 7-Mode. Through lectures and hands-on exercises, learn how to create aggregates, storage virtual machines (SVMs), virtual interfaces (VIFs), FlexVol® volumes, qtrees, Snapshot® copies, and more.
NOTE: The term "storage virtual machine (SVM)" is equivalent to the term "virtual server (Vserver)".
Zum Buchen bitte auf den Ortsnamen klicken
Kurstermine
Fast Lane wird alle garantierten Termine unabhängig von der Teilnehmerzahl durchführen. Ausgenommen sind höhere Gewalt oder andere unvorhersehbare Ereignisse (wie z.B. Unfall, Krankheit des Trainers), die eine Kursdurchführung unmöglich machen.
Mit der nächsten Buchung wird dieser Termin zu einem Garantietermin.
Dies ist ein Instructor-led Online Training, das über WebEx in einer VoIP Umgebung durchgeführt wird. Sollten Sie Fragen zu einem unserer Online-Kurse haben, können Sie uns jederzeit unter +49 (0)40 25334610 oder per E-Mail an info@flane.de kontaktieren.
Dies ist ein
FLEX
™-Kurs. Sie können an einem
FLEX
Training sowohl bei uns vor Ort im Klassenraum als auch über das Internet von Ihrem Arbeitsplatz oder von zu Hause aus teilnehmen.
Schweiz
Internationale Garantietermine
24.01. - 25.01.2018
Online Training
Zeitzone: Europe/London
Kurssprache: englisch
FLEX™ Training
Please see below our alternative, English language, FLEX™ course option
Deutschland
Nordamerika
USA
08.03. - 09.03.2018
Online Training
Zeitzone: US/Central
Kurssprache: englisch
03.05. - 04.05.2018
Online Training
Zeitzone: US/Central
Kurssprache: englisch
28.06. - 29.06.2018
Online Training
Zeitzone: US/Central
Kurssprache: englisch
06.09. - 07.09.2018
Online Training
Zeitzone: US/Central
Kurssprache: englisch
11.10. - 12.10.2018
Online Training
Zeitzone: US/Central
Kurssprache: englisch
19.12. - 20.12.2018
Online Training
Zeitzone: US/Central
Kurssprache: englisch
Kanada
08.03. - 09.03.2018
Online Training
Zeitzone: Canada/Central
Kurssprache: englisch
28.06. - 29.06.2018
Online Training
Zeitzone: Canada/Central
Kurssprache: englisch
11.10. - 12.10.2018
Online Training
Zeitzone: Canada/Central
Kurssprache: englisch
Asien & Pazifik