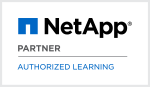 ONTAP Administration: What's New in ONTAP 9.1 (ADMIN91)
Zielgruppe
NetApp employees and partners
Voraussetzungen
A working knowledge of ONTAP 9 is required.
Kursziele
In this course you will learn about the new features that are included in the ONTAP 9.1 Data Management Software release. You also configure many of these features with hands-on exercises using a lab environment that will be provided to you. This course is meant to update those that have taken the current Clustered Data ONTAP 8.3 administration courses or the ONTAP Administration: What's New in ONTAP 9 course.
Kursinhalt
This course focuses on enabling you to do the following:
List the new features included in the ONTAP 9.1 release
Identify the different ONTAP 9.1 deployment options
Identify feature enhancements to the FAS, All Flash FAS, and OnCommand software
Configure encrypted volumes using NetApp Volume Encryption (NVE) and massively scalable containers using FlexGroup volumes
Zum Buchen bitte auf den Ortsnamen klicken
Kurstermine
Fast Lane wird alle garantierten Termine unabhängig von der Teilnehmerzahl durchführen. Ausgenommen sind höhere Gewalt oder andere unvorhersehbare Ereignisse (wie z.B. Unfall, Krankheit des Trainers), die eine Kursdurchführung unmöglich machen.
Mit der nächsten Buchung wird dieser Termin zu einem Garantietermin.
Dies ist ein Instructor-led Online Training, das über WebEx in einer VoIP Umgebung durchgeführt wird. Sollten Sie Fragen zu einem unserer Online-Kurse haben, können Sie uns jederzeit unter +49 (0)40 25334610 oder per E-Mail an info@flane.de kontaktieren.
Dies ist ein
FLEX
™-Kurs. Sie können an einem
FLEX
Training sowohl bei uns vor Ort im Klassenraum als auch über das Internet von Ihrem Arbeitsplatz oder von zu Hause aus teilnehmen.
Nordamerika
USA
07.03.2018
Online Training
Zeitzone: US/Central
Kurssprache: englisch
Garantietermin!
Asien & Pazifik