Kursangebot
Training nach Technologie

Training nach Hersteller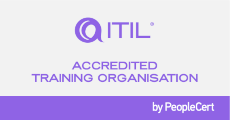 ITIL® Foundation (ITILFS)
Zielgruppe
IT-Geschäftsleitung, IT-Management, Service-Manager
Verantwortliche für den Betrieb von IT-Services, IT-Prozess-Manager, Service-Leiter, Berater, Projektmitarbeiter
Besonders geeignet für IT-Mitarbeiter in Service-Prozessen, Service-Desk-/Help-Desk-Agenten und Supervisors sowie für Projektmitarbeiter in ITIL®-Projekten
Voraussetzungen
Keine besonderen Voraussetzungen erforderlich
Sie sollten Interesse für IT-Management mitbringen
Kursziele
Setzen Sie die Best Practices des IT Service Managements nach ITIL in Ihrem Unternehmen um – und lernen Sie hier die Prozesse und die entsprechenden Werkzeuge kennen.
Sie lernen einen möglichen Einsatz von ITIL®-Prozessen in Ihrer Organisation kennen. Erfahren Sie auch, wie Kunden die IT-Organisation heute wahrnehmen und welche Kriterien diese zu deren Beurteilung anwenden. Sie erfahren, was ein IT-Service und das dazu nötige IT Service Management ist und wie es umgesetzt werden könnte.
Kursinhalt
Als Teilnehmer lernen Sie den Mehrwert von Service-Management-Prozessen in Ihrer eigenen Organisation einzuschätzen. Sie lernen die für die Prüfung relevanten Prozesse, Rollen, Funktionen, den neuen Service Lifecycle, Techniken und Methoden der international anerkannten Best Practices kennen und werden optimal auf die Prüfung ITIL® Foundation in IT Service Management vorbereitet. Sie werden sicher im Umgang mit dem Basis-Vokabular der ITIL®-Original-Literatur und legen die Basis für weitere ITIL®-Zertifizierungen. In diesem Kurs erarbeiten Sie sich effektiv ein solides Basiswissen und Verständnis der 5 ITIL®-Kernbücher:
Service Strategy
Service Design
Service Transition
Service Operation
Continual Service Improvement
Comments
ITIL® is a registered trade mark of AXELOS Limited
The Swirl logo™ is a trade mark of AXELOS Limited
The ITIL Accredited Examination Institute logo is a trade mark of AXELOS Limited
Zum Buchen bitte auf den Ortsnamen klicken
Kurstermine
Fast Lane wird alle garantierten Termine unabhängig von der Teilnehmerzahl durchführen. Ausgenommen sind höhere Gewalt oder andere unvorhersehbare Ereignisse (wie z.B. Unfall, Krankheit des Trainers), die eine Kursdurchführung unmöglich machen.
Schweiz
Zur Zeit sind keine Termine verfügbar. Fragen Sie an via info@flane.ch.
Internationale Garantietermine