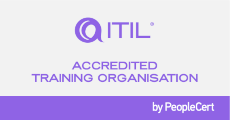 ITIL® Foundation (ITILF)
Zielgruppe
IT-Geschäftsleitung, IT-Management, Service Manager
Verantwortliche für den Betrieb von IT-Services, IT-Prozess-Manager, Service-Leiter, Berater, Projektmitarbeiter
Besonders geeignet für IT-Mitarbeiter in Service-Prozessen, Service-Desk-/Help-Desk-Agenten und Supervisors sowie für Projektmitarbeiter in ITIL®-Projekten
Voraussetzungen
Keine besonderen Voraussetzungen erforderlich
Sie sollten Interesse für IT-Management und Unternehmensführung mitbringen
Kursinhalt
Als Teilnehmer lernen Sie den Mehrwert von Service-Management-Prozessen, in ihrer eigenen Organisation einzuschätzen. Sie lernen Techniken und Methoden der international anerkannten Best Practices kennen und werden optimal auf die Prüfung Foundations in IT Service Management vorbereitet. Sie werden sicher im Umgang mit dem Basis-Vokabular der ITIL®-Original-Literatur und legen die Basis für weitere ITIL®-Zertifizierungen.
In diesem Kurs erarbeiten Sie sich effektiv ein solides Basiswissen und Verständnis der 5 ITIL®-Kernbücher:
Service Strategy
Service Design
Service Transition
Service Operation
Continual Service Improvement
Prüfungsvorbereitung und Prüfung (Multiple Choice) finden am letzten Tag statt. Die Prüfungsgebühr von 180,- € ist nicht im Kurspreis enthalten.
Comments
ITIL® is a registered trade mark of AXELOS Limited
The Swirl logo™ is a trade mark of AXELOS Limited
The ITIL Accredited Examination Institute logo is a trade mark of AXELOS Limited
Classroom Training
Dauer 3 Tage
Sprache der Kursunterlagen: englisch
Zum Buchen bitte auf den Ortsnamen klicken
Kurstermine
Dies ist ein Instructor-led Online Training, das über WebEx in einer VoIP Umgebung durchgeführt wird. Sollten Sie Fragen zu einem unserer Online-Kurse haben, können Sie uns jederzeit unter +49 (0)40 25334610 oder per E-Mail an info@flane.de kontaktieren.