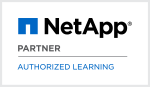 ONTAP Select (OTS)
Who should attend
NetApp customers, IT generalists and academic students
Course Objectives
Design your Data Fabric with software defined storage.
Discuss the flexible, agile approach to storage ONTAP Select enables.
Roll out and administer ONTAP Select with the help of the ONTAP Deploy tool via GUI, CLI, API and vSphere plugin.
Course Content
Where does ONTAP Select fit into the NetApp Data Fabric
How does ONTAP Select help you build your/your customer's Data Fabric
How does ONTAP Select work (as opposed to FAS/AFF...)
Implementation

Networking considerations
Disk management considerations
Roll-Out of Single Node clusters
Roll-Out of Multi-Node clusters
MetroCluster SDS

Management/Operations

Mediator
Monitoring
Adding Capacity
Pool Licensing
Shuttiing Down / Destroying clusters
Automation
Classroom Training
Dauer 3 Tage
inkl. Verpflegung
Verpflegung umfasst:
Kaffee, Tee, Saft, Wasser, Cola
Gebäck und Süssigkeiten
Frisches Obst
Mittagessen in einem der naheliegenden Restaurants
Gilt nur bei Durchführung durch Fast Lane. Termine, die von unseren Partnern durchgeführt werden, beinhalten ggf. ein abweichendes Verpflegungsangebot.
Digitale Kursunterlagen
Kurstermine
Deutsch
Zeitzone Mitteleuropäische Sommerzeit (MESZ)
Instructor-led Online Training: Dies ist ein Instructor-led Online Training, das über WebEx in einer VoIP Umgebung durchgeführt wird. Sollten Sie Fragen zu einem unserer Online-Kurse haben, können Sie uns jederzeit unter +41 44 832 50 80 oder per E-Mail an info@flane.ch kontaktieren.