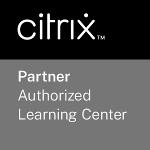 Citrix Workspace Microapps Essentials (CWS-206)
Course Overview
This foundational course to Citrix Workspace intelligence ushers students into the new generation of Citrix teaching how intelligent features help organize, guide, and automate the future of work.
Gain an understanding of the fundamentals of web services, APIs, and systems integrations through building microapps designed to boost employee productivity and optimize the end user experience.
This three-day course will cover the fundamentals of Citrix Microapps, web services, security considerations and API troubleshooting to help you successfully deploy microapps in your environment.
Who should attend
Built for IT professionals looking to build and deploy microapps with Citrix Workspace. Potential students include administrators, engineers or application developers, and architects responsible for the Citrix Workspace experience.
Certifications
This course is part of the following Certifications:
Course Objectives
Gain foundational knowledge of Citrix Intelligent Workspace to be successful with Citrix microapps.
How to deploy and configure Citrix Intelligent Workspace Microapps as well as the fundamentals of APIs and Systems of Record (SoR) integrations
Deploy microapps from existing templates, as well as custom System of Record integrations and microapp deloyment
Course Content
Module 1: Introduction to Citrix Workspace with Microapps
User Experience
Citrix Workspace Components
Feature and Functionality Overview
Module 2: Citrix Workspace with microapps Architecture
Workspace with microapp components
Module 3: Web and Data Elements
Systems of Record
API Introduction
Rest API
URLs, URI, & Endpoint URIs
HTTP Overview
HTTP & API Workflow
Authentication
Connecting to REST APIs
Module 4: Citrix Workspace with HTTP Methods
Post Method
Primary Key
Put Method
Delete Method
Module 5: Relational Database
Relational Data Model
Simplified Data Model Examples
Complex Data Model Examples
Module 6: Microapps Troubleshooting
Troubleshooting Methodology
Integration Logs
Microapps Logs
Classroom Training
Dauer 3 Tage
inkl. Verpflegung
Verpflegung umfasst:
Kaffee, Tee, Saft, Wasser, Cola
Gebäck und Süssigkeiten
Frisches Obst
Mittagessen in einem der naheliegenden Restaurants
Gilt nur bei Durchführung durch Fast Lane. Termine, die von unseren Partnern durchgeführt werden, beinhalten ggf. ein abweichendes Verpflegungsangebot.
Digitale Kursunterlagen
Kurstermine
Französisch
Zeitzone: Mitteleuropäische Zeit (MEZ)
Italienisch
Zeitzone: Mitteleuropäische Zeit (MEZ)
Instructor-led Online Training: Dies ist ein Instructor-led Online Training, das über WebEx in einer VoIP Umgebung durchgeführt wird. Sollten Sie Fragen zu einem unserer Online-Kurse haben, können Sie uns jederzeit unter +41 44 832 50 80 oder per E-Mail an info@flane.ch kontaktieren.