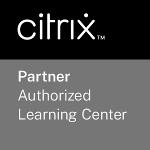 Citrix (ShareFile) Content Collaboration Enterprise Essentials (CSF-201)
Who should attend
Administrators
Implementers
Engineers
Architects
Certifications
This course is part of the following Certifications:
Prerequisites
It is recommended that you have a basic understanding of the following concepts and technologies:
Windows Server administration
Citrix XenApp and XenDesktop
Microsoft Exchange and Outlook
Basic Enterprise File Synchronization and Sharing
Basic Networking
Course Objectives
Upon successful completion of this course, you will be able to:
Understand Enterprise File Synchronization and Sharing
Understand ShareFile architecture
Navigate the ShareFile administration interface
Build StorageZones
Manage ShareFile users in an Active Directory environment
Integrate ShareFile in an existing Citrix XenApp/XenDesktop environment
Deploy ShareFile Clients on Windows physical and virtual desktops
Integrate with Microsoft Outlook using a ShareFile Plug-in
Monitor and Troubleshooting a ShareFile Environment
Course Content
Citrix ShareFile Enterprise Essentials teaches you the skills required to implement ShareFile components including the ShareFile for Windows client, XenApp and XenDesktop client and StorageZones. Learn to integrate ShareFile with key backend elements including Microsoft ADFS for single sign-on and understand the data flow behind it. you will also learn how to navigate the ShareFile control plane user interface.
Classroom Training
Dauer 2 Tage
inkl. Verpflegung
Verpflegung umfasst:
Kaffee, Tee, Saft, Wasser, Cola
Gebäck und Süssigkeiten
Frisches Obst
Mittagessen in einem der naheliegenden Restaurants
Gilt nur bei Durchführung durch Fast Lane. Termine, die von unseren Partnern durchgeführt werden, beinhalten ggf. ein abweichendes Verpflegungsangebot.
Digitale Kursunterlagen
Derzeit gibt es keine Trainingstermine für diesen Kurs.