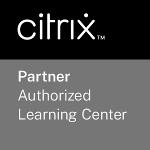 Citrix Virtual Apps and Desktops 7, App Layering and WEM Administration (Fast-Track) (CMB-318)
Kursüberblick
This accelerated 5-day course is designed for experienced IT professionals to build the foundational administration aspects of installing, configuring and managing a Citrix Virtual Apps and Desktops 7 environment.
Learn about configuring policies, printing and basic security features as well as more advanced topics including Windows Environment Management (WEM) and App Layering.
Gain an understanding of the solution architecture and communications, and the factors that contribute to a successful deployment.
Also, learn how to monitor and troubleshoot the environment with a Citrix Director and Citrix Analytics.
Zielgruppe
Built for experienced IT Professionals new to Citrix Virtual Apps and Desktops 7 in an on-prem or Citrix Cloud environment looking to gain as much information as possible in the 5-day course. In this course, you will learn the considerations and how-to setup a new Citrix Virtual Apps and Desktop site including advanced topics as WEM and App Layering allowing fast-track preparation for the CCP-V certification.
Zertifizierungen
Empfohlenes Training für die Zertifizierung zum:
Voraussetzungen
This course is taught at a much faster pace and experience with previous versions is recommended. Previous knowledge of legacy versions of Citrix Virtual Apps or Citrix Virtual Desktops is also beneficial due to the faster pace of this course.
Kursziele
How to install, configure, and manage a Citrix Virtual Apps and Desktops 7 site on-premises and on Citrix Cloud including how to migrate from on-premises to Citrix Cloud
How to configure Workspace Environment Management to improve the end user environment and virtual resource consumption
App Layering skills to create and administer OS, platform, application, elastic and user layers
Kursinhalt
Module 1: Architecture Overview
Module 2: Deploy the Site
Module 3: The Apps and Desktops Images
Module 4: Provision and Deliver App and Desktop Resources
Module 5: Provide Access to App and Desktop Resources
Module 6: Manage the User Experience
Module 7: Published App and Desktop
Module 8: Manage Printing for User Sessions
Module 9: Citrix Profile Management
Module 10: Manage the Site
Module 11: Citrix Virtual Apps and Desktops
Module 12: Monitor the Site
Module 13: Introduction to Supporting and Troubleshooting Citrix Virtual Apps and Desktops
Module 14: Migrate to Citrix Cloud
Module 15: Citrix Analytics
Module 16: Introduction to App Layering
Module 17: Create an OS Layer
Module 18: Create a Platform Layer
Module 19: Create App Layers
Module 20: Create Elastic App and User Layers
Module 21: Deploy a Layered Image using Citrix Virtual Apps and Desktops
Module 22: Explore Layer Priority and Maintain an App Layering Environment
Module 23: Introduction to Workspace Environment Management (WEM)
Module 24: Use WEM to Centralize Environment Management
Module 25: Use WEM for Performance Optimization
Module 26: Use WEM to Secure Environments
Module 27: Migrate and Upgrade WEM
Classroom Training
Dauer 5 Tage
inkl. Verpflegung
Verpflegung umfasst:
Kaffee, Tee, Saft, Wasser, Cola
Gebäck und Süssigkeiten
Frisches Obst
Mittagessen in einem der naheliegenden Restaurants
Gilt nur bei Durchführung durch Fast Lane. Termine, die von unseren Partnern durchgeführt werden, beinhalten ggf. ein abweichendes Verpflegungsangebot.
Digitale Kursunterlagen
E-Learning
Dauer 90 Tage
E-Learning kaufen
Kurstermine
Deutsch
Zeitzone: Mitteleuropäische Zeit (MEZ)
Französisch
Zeitzone: Mitteleuropäische Zeit (MEZ)
Italienisch
Zeitzone: Mitteleuropäische Zeit (MEZ)
Instructor-led Online Training: Dies ist ein Instructor-led Online Training, das über WebEx in einer VoIP Umgebung durchgeführt wird. Sollten Sie Fragen zu einem unserer Online-Kurse haben, können Sie uns jederzeit unter +41 44 832 50 80 oder per E-Mail an info@flane.ch kontaktieren.