Go Green and Save...
"Go Green and Save..."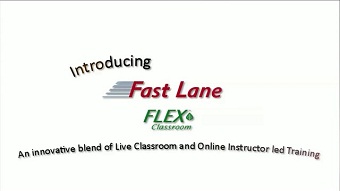 Dieses Video können Sie nur mit dem Adobe Flash Player und aktiviertem JavaScript sehen.Flash Player herunterladen
Mit unseren FLEX™ Classroom Trainings können Sie Reisekosten einsparen, haben ein noch grösseres Angebot an Garantieterminen zur Auswahl und können Ihre Kurswahl flexibler gestalten.

Sie können an einem FLEX™ Training sowohl bei uns vor Ort im Klassenraum als auch über das Internet von Ihrem Arbeitsplatz oder auch von zu Hause aus teilnehmen. Egal, ob Sie über das Internet oder in einem unserer Trainingszentren an einem FLEX™ Training teilnehmen, Sie werden den gleichen Lernerfolg erzielen und auf alle praktischen Labore zugreifen können.
Wesentliche Features im Überblick
Live Instructor-Led Training mit Hands-on Labs
Teilnahme im Klassenraum vor Ort oder über das Internet
Voice- und Video-Funktionen für Remote-Teilnehmer, um mit dem Trainer und den Teilnehmern vor Ort zu kommunizieren
"Break-Out-Rooms" für Online-Teilnehmer und Teilnehmer im Trainingscenter
Elektronisches Whiteboard für Notizen des Kursleiters
Geringe Bandbreitenanforderungen für den Remote-Zugang
Hier haben wir für Sie unsere FLEX™ Trainings gelistet. Klicken Sie auf den Link rechts neben dem Kursdatum, um sich für ein FLEX™ Training anzumelden. Für weitere Informationen zum Kursinhalt, klicken Sie bitte auf den Kurstitel.
Fast Lane wird alle garantierten Termine unabhängig von der Teilnehmerzahl durchführen. Ausgenommen sind höhere Gewalt oder andere unvorhersehbare Ereignisse (wie z.B. Unfall, Krankheit des Trainers), die eine Kursdurchführung unmöglich machen.
Mit der nächsten Buchung wird dieser Termin zu einem Garantietermin.



Zum Buchen bitte auf den Ortsnamen klicken.

Cisco
IINS
Implementing Cisco Network Security

Dies ist ein FLEX™-Kurs.

Kurssprache: englisch

27.03. - 31.03.2017
London (Int Hse)
Klassenraum-Training buchen
Online-Training buchen


Zeitzone: Europe/London

SITCS
Implementing Cisco Threat Control Solutions

Dies ist ein FLEX™-Kurs.

Kurssprache: englisch

27.03. - 31.03.2017
London (Int Hse)
Klassenraum-Training buchen
Online-Training buchen


Zeitzone: Europe/London

WISECURE
Securing Cisco Wireless Enterprise Networks

Dies ist ein FLEX™-Kurs.

Kurssprache: englisch

27.03. - 31.03.2017
London (Int Hse)
Klassenraum-Training buchen
Online-Training buchen


Zeitzone: Europe/London

DCMDS
Configuring Cisco MDS 9000 Switches

Dies ist ein FLEX™-Kurs.

Kurssprache: englisch

03.04. - 07.04.2017
London (Int Hse)
Klassenraum-Training buchen
Online-Training buchen


Zeitzone: Europe/London

ROUTE
Implementing Cisco IP Routing v2.0

Dies ist ein FLEX™-Kurs.

Kurssprache: englisch

03.04. - 07.04.2017
London (Int Hse)
Klassenraum-Training buchen
Online-Training buchen


Zeitzone: Europe/London

QOS
Implementing Cisco Quality of Service

Dies ist ein FLEX™-Kurs.

Kurssprache: englisch

03.04. - 07.04.2017
London (Int Hse)
Klassenraum-Training buchen
Online-Training buchen


Zeitzone: Europe/London

ICND1
Interconnecting Cisco Network Devices Part 1

Dies ist ein FLEX™-Kurs.

Kurssprache: englisch

03.04. - 07.04.2017
London (Int Hse)
Klassenraum-Training buchen
Online-Training buchen


Zeitzone: Europe/London

ICND1
Interconnecting Cisco Network Devices Part 1

Dies ist ein FLEX™-Kurs.

Kurssprache: englisch

10.04. - 14.04.2017
London (Int Hse)
Klassenraum-Training buchen
Online-Training buchen


Zeitzone: Europe/London

SIMOS
Implementing Cisco Secure Mobility Solutions

Dies ist ein FLEX™-Kurs.

Kurssprache: englisch

18.04. - 21.04.2017
Frankfurt
Klassenraum-Training buchen
Online-Training buchen


Zeitzone: Europe/Berlin

ICND1
Interconnecting Cisco Network Devices Part 1

Dies ist ein FLEX™-Kurs.

Kurssprache: englisch

18.04. - 21.04.2017
München
Klassenraum-Training buchen
Online-Training buchen


Zeitzone: Europe/Berlin

TSHOOT
Troubleshooting and Maintaining Cisco IP Networks v2.0

Dies ist ein FLEX™-Kurs.

Kurssprache: englisch

18.04. - 21.04.2017
Hamburg
Klassenraum-Training buchen
Online-Training buchen


Zeitzone: Europe/Berlin

WITSHOOT
Troubleshooting Cisco Wireless Enterprise Networks

Dies ist ein FLEX™-Kurs.

Kurssprache: englisch

18.04. - 20.04.2017
London (Int Hse)
Klassenraum-Training buchen
Online-Training buchen


Zeitzone: Europe/London

SISE
Implementing and Configuring Cisco Identity Services Engine

Dies ist ein FLEX™-Kurs.

Kurssprache: englisch

24.04. - 28.04.2017
London, City
Klassenraum-Training buchen
Online-Training buchen


Zeitzone: Europe/London

SITCS
Implementing Cisco Threat Control Solutions

Dies ist ein FLEX™-Kurs.

Kurssprache: englisch

24.04. - 28.04.2017
Frankfurt
Klassenraum-Training buchen
Online-Training buchen


Zeitzone: Europe/Berlin

WIFUND
Implementing Cisco Wireless Network Fundamentals

Dies ist ein FLEX™-Kurs.

Kurssprache: englisch

24.04. - 28.04.2017
London (Int Hse)
Klassenraum-Training buchen
Online-Training buchen


Zeitzone: Europe/London

ICND2
Interconnecting Cisco Network Devices Part 2

Dies ist ein FLEX™-Kurs.

Kurssprache: englisch

24.04. - 28.04.2017
London (Int Hse)
Klassenraum-Training buchen
Online-Training buchen


Zeitzone: Europe/London

ICND2
Interconnecting Cisco Network Devices Part 2

Dies ist ein FLEX™-Kurs.

Kurssprache: deutsch

24.04. - 28.04.2017
Wien (iTLS)
Klassenraum-Training buchen
Online-Training buchen


Zeitzone: Europe/Vienna

ICND2
Interconnecting Cisco Network Devices Part 2

Dies ist ein FLEX™-Kurs.

Kurssprache: englisch

24.04. - 28.04.2017
München
Klassenraum-Training buchen
Online-Training buchen


Zeitzone: Europe/Berlin

CCNAX
Interconnecting Cisco Network Devices: Accelerated

Dies ist ein FLEX™-Kurs.

Kurssprache: englisch

24.04. - 28.04.2017
Birmingham
Klassenraum-Training buchen
Online-Training buchen


Zeitzone: Europe/London

TSHOOT
Troubleshooting and Maintaining Cisco IP Networks v2.0

Dies ist ein FLEX™-Kurs.

Kurssprache: englisch

24.04. - 28.04.2017
London (mid)
Klassenraum-Training buchen
Online-Training buchen


Zeitzone: Europe/London

BTASBVA
Applying Cisco Specialized Business Value Analysis Skills

Dies ist ein FLEX™-Kurs.

Kurssprache: deutsch

02.05. - 03.05.2017
Düsseldorf
Klassenraum-Training buchen
Online-Training buchen


Zeitzone: Europe/Berlin

BTASBVA
Applying Cisco Specialized Business Value Analysis Skills

Dies ist ein FLEX™-Kurs.

Kurssprache: deutsch

02.05. - 03.05.2017
Zürich
Klassenraum-Training buchen
Online-Training buchen


Zeitzone: Europe/Zurich

DCUCS
Configuring Data Center Unified Computing

Dies ist ein FLEX™-Kurs.

Kurssprache: deutsch

02.05. - 05.05.2017
Hamburg
Klassenraum-Training buchen
Online-Training buchen


Zeitzone: Europe/Berlin

SWISE
Implementing Cisco Identity Services Engine for Wireless Engineers

Dies ist ein FLEX™-Kurs.

Kurssprache: englisch

02.05. - 03.05.2017
London, City
Klassenraum-Training buchen
Online-Training buchen


Zeitzone: Europe/London

ROUTE
Implementing Cisco IP Routing v2.0

Dies ist ein FLEX™-Kurs.

Kurssprache: englisch

02.05. - 05.05.2017
Berlin
Klassenraum-Training buchen
Online-Training buchen


Zeitzone: Europe/Berlin

WCMX
Deploying Cisco Connected Mobile Experiences

Dies ist ein FLEX™-Kurs.

Kurssprache: englisch

04.05. - 05.05.2017
London, City
Klassenraum-Training buchen
Online-Training buchen


Zeitzone: Europe/London

BTEABVD
Executing Cisco Advanced Business Value Analysis and Design Techniques

Dies ist ein FLEX™-Kurs.

Kurssprache: deutsch

04.05. - 05.05.2017
Düsseldorf
Klassenraum-Training buchen
Online-Training buchen


Zeitzone: Europe/Berlin

BTEABVD
Executing Cisco Advanced Business Value Analysis and Design Techniques

Dies ist ein FLEX™-Kurs.

Kurssprache: deutsch

04.05. - 05.05.2017
Zürich
Klassenraum-Training buchen
Online-Training buchen


Zeitzone: Europe/Zurich

SWITCH
Implementing Cisco IP Switched Networks v2.0

Dies ist ein FLEX™-Kurs.

Kurssprache: englisch

08.05. - 12.05.2017
Berlin
Klassenraum-Training buchen
Online-Training buchen


Zeitzone: Europe/Berlin

IINS
Implementing Cisco Network Security

Dies ist ein FLEX™-Kurs.

Kurssprache: englisch

08.05. - 12.05.2017
London (Int Hse)
Klassenraum-Training buchen
Online-Training buchen


Zeitzone: Europe/London

IINS
Implementing Cisco Network Security

Dies ist ein FLEX™-Kurs.

Kurssprache: deutsch

08.05. - 12.05.2017
München
Klassenraum-Training buchen
Online-Training buchen


Zeitzone: Europe/Berlin

SISAS
Implementing Cisco Secure Access Solutions

Dies ist ein FLEX™-Kurs.

Kurssprache: englisch

08.05. - 12.05.2017
Berlin
Klassenraum-Training buchen
Online-Training buchen


Zeitzone: Europe/Berlin

SPEDGE
Implementing Cisco Service Provider Next-Generation Edge Network Services

Dies ist ein FLEX™-Kurs.

Kurssprache: englisch

08.05. - 12.05.2017
London (Int Hse)
Klassenraum-Training buchen
Online-Training buchen


Zeitzone: Europe/London

ICND1
Interconnecting Cisco Network Devices Part 1

Dies ist ein FLEX™-Kurs.

Kurssprache: englisch

08.05. - 12.05.2017
London (Int Hse)
Klassenraum-Training buchen
Online-Training buchen


Zeitzone: Europe/London

CIEC
Cisco CCIE Collaboration Advanced Workshop

Dies ist ein FLEX™-Kurs.

Kurssprache: englisch

15.05. - 19.05.2017
Frankfurt
Klassenraum-Training buchen
Online-Training buchen


Zeitzone: Europe/Berlin

CIERS1
Cisco Internetwork Expert Routing & Switching 1

Dies ist ein FLEX™-Kurs.

Kurssprache: englisch

15.05. - 19.05.2017
Hamburg
Klassenraum-Training buchen
Online-Training buchen


Zeitzone: Europe/Berlin

CLDDES
Designing the Cisco Cloud

Dies ist ein FLEX™-Kurs.

Kurssprache: englisch

15.05. - 19.05.2017
London, City
Klassenraum-Training buchen
Online-Training buchen


Zeitzone: Europe/London

SENSS
Implementing Cisco Edge Network Security Solutions

Dies ist ein FLEX™-Kurs.

Kurssprache: englisch

15.05. - 19.05.2017
Berlin
Klassenraum-Training buchen
Online-Training buchen


Zeitzone: Europe/Berlin

ROUTE
Implementing Cisco IP Routing v2.0

Dies ist ein FLEX™-Kurs.

Kurssprache: englisch

15.05. - 19.05.2017
London (Int Hse)
Klassenraum-Training buchen
Online-Training buchen


Zeitzone: Europe/London

MPLS
Implementing Cisco MPLS

Dies ist ein FLEX™-Kurs.

Kurssprache: englisch

15.05. - 19.05.2017
London, City
Klassenraum-Training buchen
Online-Training buchen


Zeitzone: Europe/London

MCAST
Implementing Cisco Multicast

Dies ist ein FLEX™-Kurs.

Kurssprache: englisch

15.05. - 19.05.2017
London, City
Klassenraum-Training buchen
Online-Training buchen


Zeitzone: Europe/London

WIFUND
Implementing Cisco Wireless Network Fundamentals

Dies ist ein FLEX™-Kurs.

Kurssprache: englisch

15.05. - 19.05.2017
London (Int Hse)
Klassenraum-Training buchen
Online-Training buchen


Zeitzone: Europe/London

SASAC
Implementing Core Cisco ASA Security v1.0

Dies ist ein FLEX™-Kurs.

Kurssprache: englisch

15.05. - 19.05.2017
London, City
Klassenraum-Training buchen
Online-Training buchen


Zeitzone: Europe/London

ICND1
Interconnecting Cisco Network Devices Part 1

Dies ist ein FLEX™-Kurs.

Kurssprache: englisch

15.05. - 19.05.2017
London (Int Hse)
Klassenraum-Training buchen
Online-Training buchen


Zeitzone: Europe/London

TSHOOT
Troubleshooting and Maintaining Cisco IP Networks v2.0

Dies ist ein FLEX™-Kurs.

Kurssprache: englisch

15.05. - 19.05.2017
Berlin
Klassenraum-Training buchen
Online-Training buchen


Zeitzone: Europe/Berlin

BTBBSS
Building Business Specialist Skills

Dies ist ein FLEX™-Kurs.

Kurssprache: deutsch

22.05. - 24.05.2017
Berlin
Klassenraum-Training buchen
Online-Training buchen


Zeitzone: Europe/Berlin

BTBBSS
Building Business Specialist Skills

Dies ist ein FLEX™-Kurs.

Kurssprache: deutsch

22.05. - 24.05.2017
Zürich
Klassenraum-Training buchen
Online-Training buchen


Zeitzone: Europe/Zurich

SPNGN1
Building Cisco Service Provider Next-Generation Networks, Part 1

Dies ist ein FLEX™-Kurs.

Kurssprache: englisch

22.05. - 26.05.2017
London (Int Hse)
Klassenraum-Training buchen
Online-Training buchen


Zeitzone: Europe/London

DCNX5K
Configuring Cisco Nexus 5000 Switches

Dies ist ein FLEX™-Kurs.

Kurssprache: englisch

22.05. - 26.05.2017
London, City
Klassenraum-Training buchen
Online-Training buchen


Zeitzone: Europe/London

SISE
Implementing and Configuring Cisco Identity Services Engine

Dies ist ein FLEX™-Kurs.

Kurssprache: englisch

22.05. - 26.05.2017
London, City
Klassenraum-Training buchen
Online-Training buchen


Zeitzone: Europe/London

SWITCH
Implementing Cisco IP Switched Networks v2.0

Dies ist ein FLEX™-Kurs.

Kurssprache: englisch

22.05. - 26.05.2017
London (Int Hse)
Klassenraum-Training buchen
Online-Training buchen


Zeitzone: Europe/London

ICND2
Interconnecting Cisco Network Devices Part 2

Dies ist ein FLEX™-Kurs.

Kurssprache: englisch

22.05. - 26.05.2017
London (Int Hse)
Klassenraum-Training buchen
Online-Training buchen


Zeitzone: Europe/London

802.1X
Introduction to 802.1X Operations for Cisco Security Professionals

Dies ist ein FLEX™-Kurs.

Kurssprache: englisch

22.05. - 24.05.2017
London, City
Klassenraum-Training buchen
Online-Training buchen


Zeitzone: Europe/London

SAEXS
Cisco ASA Express Security

Dies ist ein FLEX™-Kurs.

Kurssprache: englisch

25.05. - 26.05.2017
London, City
Klassenraum-Training buchen
Online-Training buchen


Zeitzone: Europe/London

DCINX9K
Introducing Cisco Nexus 9000 Switches in NX-OS Mode

Dies ist ein FLEX™-Kurs.

Kurssprache: englisch

25.05. - 26.05.2017
London, City
Klassenraum-Training buchen
Online-Training buchen


Zeitzone: Europe/London

CIERS2
Cisco Internetwork Expert Routing & Switching 2

Dies ist ein FLEX™-Kurs.

Kurssprache: englisch

29.05. - 02.06.2017
Hamburg
Klassenraum-Training buchen
Online-Training buchen


Zeitzone: Europe/Berlin

SPADVROUTE
Deploying Cisco Service Provider Advanced Network Routing

Dies ist ein FLEX™-Kurs.

Kurssprache: deutsch

29.05. - 02.06.2017
Münster
Klassenraum-Training buchen
Online-Training buchen


Zeitzone: Europe/Berlin

ROUTE
Implementing Cisco IP Routing v2.0

Dies ist ein FLEX™-Kurs.

Kurssprache: englisch

29.05. - 02.06.2017
München
Klassenraum-Training buchen
Online-Training buchen


Zeitzone: Europe/Berlin

SIMOS
Implementing Cisco Secure Mobility Solutions

Dies ist ein FLEX™-Kurs.

Kurssprache: englisch

29.05. - 02.06.2017
Berlin
Klassenraum-Training buchen
Online-Training buchen


Zeitzone: Europe/Berlin

SITCS
Implementing Cisco Threat Control Solutions

Dies ist ein FLEX™-Kurs.

Kurssprache: deutsch

29.05. - 02.06.2017
Berlin
Klassenraum-Training buchen
Online-Training buchen


Zeitzone: Europe/Berlin

ICND1
Interconnecting Cisco Network Devices Part 1

Dies ist ein FLEX™-Kurs.

Kurssprache: englisch

29.05. - 02.06.2017
Düsseldorf
Klassenraum-Training buchen
Online-Training buchen


Zeitzone: Europe/Berlin

ACS
Implementing Cisco Secure Access Control System Version 5.6

Dies ist ein FLEX™-Kurs.

Kurssprache: englisch

31.05. - 02.06.2017
London, City
Klassenraum-Training buchen
Online-Training buchen


Zeitzone: Europe/London

CLDACI
Building the Cisco Cloud with Application Centric Infrastructure

Dies ist ein FLEX™-Kurs.

Kurssprache: englisch

05.06. - 09.06.2017
London, City
Klassenraum-Training buchen
Online-Training buchen


Zeitzone: Europe/London

DCNX7K
Configuring Cisco Nexus 7000 Switches

Dies ist ein FLEX™-Kurs.

Kurssprache: englisch

05.06. - 09.06.2017
London, City
Klassenraum-Training buchen
Online-Training buchen


Zeitzone: Europe/London

WDBWL-WDAWL
Deploying Basic and Advanced Cisco Wireless LANs Bootcamp

Dies ist ein FLEX™-Kurs.

Kurssprache: englisch

05.06. - 09.06.2017
London (Int Hse)
Klassenraum-Training buchen
Online-Training buchen


Zeitzone: Europe/London

WDBWL
Deploying Basic Cisco Wireless LANs

Dies ist ein FLEX™-Kurs.

Kurssprache: englisch

05.06. - 07.06.2017
London (Int Hse)
Klassenraum-Training buchen
Online-Training buchen


Zeitzone: Europe/London

SISAS
Implementing Cisco Secure Access Solutions

Dies ist ein FLEX™-Kurs.

Kurssprache: englisch

05.06. - 09.06.2017
London (Int Hse)
Klassenraum-Training buchen
Online-Training buchen


Zeitzone: Europe/London

ICND1
Interconnecting Cisco Network Devices Part 1

Dies ist ein FLEX™-Kurs.

Kurssprache: englisch

05.06. - 09.06.2017
London (Int Hse)
Klassenraum-Training buchen
Online-Training buchen


Zeitzone: Europe/London

BTASBVA
Applying Cisco Specialized Business Value Analysis Skills

Dies ist ein FLEX™-Kurs.

Kurssprache: deutsch

06.06. - 07.06.2017
München
Klassenraum-Training buchen
Online-Training buchen


Zeitzone: Europe/Berlin

SWITCH
Implementing Cisco IP Switched Networks v2.0

Dies ist ein FLEX™-Kurs.

Kurssprache: englisch

06.06. - 09.06.2017
München
Klassenraum-Training buchen
Online-Training buchen


Zeitzone: Europe/Berlin

ICND2
Interconnecting Cisco Network Devices Part 2

Dies ist ein FLEX™-Kurs.

Kurssprache: englisch

06.06. - 09.06.2017
Düsseldorf
Klassenraum-Training buchen
Online-Training buchen


Zeitzone: Europe/Berlin

WDAWL
Deploying Advanced Cisco Wireless LANs

Dies ist ein FLEX™-Kurs.

Kurssprache: englisch

08.06. - 09.06.2017
London (Int Hse)
Klassenraum-Training buchen
Online-Training buchen


Zeitzone: Europe/London

BTEABVD
Executing Cisco Advanced Business Value Analysis and Design Techniques

Dies ist ein FLEX™-Kurs.

Kurssprache: deutsch

08.06. - 09.06.2017
München
Klassenraum-Training buchen
Online-Training buchen


Zeitzone: Europe/Berlin

ASAVPN
Configuring Cisco ASA IPSec and SSL VPN Features

Dies ist ein FLEX™-Kurs.

Kurssprache: deutsch

12.06. - 16.06.2017
Hamburg
Klassenraum-Training buchen
Online-Training buchen


Zeitzone: Europe/Berlin

SASAA
Implementing Advanced Cisco ASA Security

Dies ist ein FLEX™-Kurs.

Kurssprache: englisch

12.06. - 16.06.2017
London, City
Klassenraum-Training buchen
Online-Training buchen


Zeitzone: Europe/London

ICND1
Interconnecting Cisco Network Devices Part 1

Dies ist ein FLEX™-Kurs.

Kurssprache: englisch

12.06. - 16.06.2017
Birmingham
Klassenraum-Training buchen
Online-Training buchen


Zeitzone: Europe/London

ICND1
Interconnecting Cisco Network Devices Part 1

Dies ist ein FLEX™-Kurs.

Kurssprache: englisch

12.06. - 16.06.2017
London (Int Hse)
Klassenraum-Training buchen
Online-Training buchen


Zeitzone: Europe/London

DCAC9K
Configuring Cisco Nexus 9000 Switches in ACI Mode

Dies ist ein FLEX™-Kurs.

Kurssprache: englisch

19.06. - 23.06.2017
London, City
Klassenraum-Training buchen
Online-Training buchen


Zeitzone: Europe/London

NPDESI
Designing and Implementing Cisco Network Programmability

Dies ist ein FLEX™-Kurs.

Kurssprache: englisch

19.06. - 23.06.2017
London, City
Klassenraum-Training buchen
Online-Training buchen


Zeitzone: Europe/London

SWITCH
Implementing Cisco IP Switched Networks v2.0

Dies ist ein FLEX™-Kurs.

Kurssprache: englisch

19.06. - 23.06.2017
London (Int Hse)
Klassenraum-Training buchen
Online-Training buchen


Zeitzone: Europe/London

IINS
Implementing Cisco Network Security

Dies ist ein FLEX™-Kurs.

Kurssprache: englisch

19.06. - 23.06.2017
Manchester
Klassenraum-Training buchen
Online-Training buchen


Zeitzone: Europe/London

ICND1
Interconnecting Cisco Network Devices Part 1

Dies ist ein FLEX™-Kurs.

Kurssprache: deutsch

19.06. - 23.06.2017
Wien (iTLS)
Klassenraum-Training buchen
Online-Training buchen


Zeitzone: Europe/Vienna

ICND2
Interconnecting Cisco Network Devices Part 2

Dies ist ein FLEX™-Kurs.

Kurssprache: englisch

19.06. - 23.06.2017
London (Int Hse)
Klassenraum-Training buchen
Online-Training buchen


Zeitzone: Europe/London

CCNAX
Interconnecting Cisco Network Devices: Accelerated

Dies ist ein FLEX™-Kurs.

Kurssprache: englisch

19.06. - 23.06.2017
London (Int Hse)
Klassenraum-Training buchen
Online-Training buchen


Zeitzone: Europe/London

TSHOOT
Troubleshooting and Maintaining Cisco IP Networks v2.0

Dies ist ein FLEX™-Kurs.

Kurssprache: englisch

19.06. - 23.06.2017
München
Klassenraum-Training buchen
Online-Training buchen


Zeitzone: Europe/Berlin

WITSHOOT
Troubleshooting Cisco Wireless Enterprise Networks

Dies ist ein FLEX™-Kurs.

Kurssprache: englisch

19.06. - 21.06.2017
London (Int Hse)
Klassenraum-Training buchen
Online-Training buchen


Zeitzone: Europe/London




Cisco Sales Enablement

OUTCOMES
Cisco Selling Business Outcomes

Dies ist ein FLEX™-Kurs.

Kurssprache: deutsch

28.04.2017
Düsseldorf
Klassenraum-Training buchen
Online-Training buchen


Zeitzone: Europe/Berlin

FPDESIGN
Designing the FlexPod Solution

Dies ist ein FLEX™-Kurs.

Kurssprache: englisch

08.05. - 09.05.2017
London, City
Klassenraum-Training buchen
Online-Training buchen


Zeitzone: Europe/London

OUTCOMES
Cisco Selling Business Outcomes

Dies ist ein FLEX™-Kurs.

Kurssprache: deutsch

26.05.2017
Wien (iTLS)
Klassenraum-Training buchen
Online-Training buchen


Zeitzone: Europe/Vienna

OUTCOMES
Cisco Selling Business Outcomes

Dies ist ein FLEX™-Kurs.

Kurssprache: deutsch

26.05.2017
München
Klassenraum-Training buchen
Online-Training buchen


Zeitzone: Europe/Berlin

OUTCOMES
Cisco Selling Business Outcomes

Dies ist ein FLEX™-Kurs.

Kurssprache: deutsch

26.05.2017
Zürich
Klassenraum-Training buchen
Online-Training buchen


Zeitzone: Europe/Zurich

OUTCOMES
Cisco Selling Business Outcomes

Dies ist ein FLEX™-Kurs.

Kurssprache: englisch

23.06.2017
London, City
Klassenraum-Training buchen
Online-Training buchen


Zeitzone: Europe/London




NetApp

ONTAP9ADM
ONTAP 9 Cluster Administration

Dies ist ein FLEX™-Kurs.

Kurssprache: deutsch

03.04. - 05.04.2017
Hamburg
Klassenraum-Training buchen
Online-Training buchen


Zeitzone: Europe/Berlin

DATAPROT9
ONTAP 9 Data Protection Administration

Dies ist ein FLEX™-Kurs.

Kurssprache: deutsch

06.04. - 07.04.2017
Hamburg
Klassenraum-Training buchen
Online-Training buchen


Zeitzone: Europe/Berlin

BNCA
Basic NetApp Configuration and Administration

Dies ist ein FLEX™-Kurs.

Kurssprache: englisch

10.04. - 11.04.2017
London, City
Klassenraum-Training buchen
Online-Training buchen


Zeitzone: Europe/London

BNCA
Basic NetApp Configuration and Administration

Dies ist ein FLEX™-Kurs.

Kurssprache: deutsch

18.04. - 19.04.2017
Wien (iTLS)
Klassenraum-Training buchen
Online-Training buchen


Zeitzone: Europe/Vienna

ONTAP9ADM
ONTAP 9 Cluster Administration

Dies ist ein FLEX™-Kurs.

Kurssprache: deutsch

18.04. - 20.04.2017
Stuttgart
Klassenraum-Training buchen
Online-Training buchen


Zeitzone: Europe/Berlin

CCWWFA
Creating and Customizing Workflows Using OnCommand Workflow Automation

Dies ist ein FLEX™-Kurs.

Kurssprache: englisch

20.04. - 21.04.2017
Berlin
Klassenraum-Training buchen
Online-Training buchen


Zeitzone: Europe/Berlin

PERFCDOT
Performance Analysis on Clustered Data ONTAP

Dies ist ein FLEX™-Kurs.

Kurssprache: englisch

20.04. - 21.04.2017
London, City
Klassenraum-Training buchen
Online-Training buchen


Zeitzone: Europe/London

ONTAP9ADM
ONTAP 9 Cluster Administration

Dies ist ein FLEX™-Kurs.

Kurssprache: deutsch

24.04. - 26.04.2017
Frankfurt
Klassenraum-Training buchen
Online-Training buchen


Zeitzone: Europe/Berlin

ONTAP9ADM
ONTAP 9 Cluster Administration

Dies ist ein FLEX™-Kurs.

Kurssprache: englisch

24.04. - 26.04.2017
Maidenhead
Klassenraum-Training buchen
Online-Training buchen


Zeitzone: Europe/London

DATAPROT9
ONTAP 9 Data Protection Administration

Dies ist ein FLEX™-Kurs.

Kurssprache: deutsch

27.04. - 28.04.2017
Frankfurt
Klassenraum-Training buchen
Online-Training buchen


Zeitzone: Europe/Berlin

DATAPROT9
ONTAP 9 Data Protection Administration

Dies ist ein FLEX™-Kurs.

Kurssprache: englisch

27.04. - 28.04.2017
Maidenhead
Klassenraum-Training buchen
Online-Training buchen


Zeitzone: Europe/London

BNCA
Basic NetApp Configuration and Administration

Dies ist ein FLEX™-Kurs.

Kurssprache: deutsch

02.05. - 03.05.2017
Düsseldorf
Klassenraum-Training buchen
Online-Training buchen


Zeitzone: Europe/Berlin

CMESERIES
Configuring and Monitoring NetApp E-Series and EF-Series Storage Systems

Dies ist ein FLEX™-Kurs.

Kurssprache: englisch

02.05. - 05.05.2017
London, City
Klassenraum-Training buchen
Online-Training buchen


Zeitzone: Europe/London

ONTAP9ADM
ONTAP 9 Cluster Administration

Dies ist ein FLEX™-Kurs.

Kurssprache: deutsch

02.05. - 04.05.2017
Düsseldorf
Klassenraum-Training buchen
Online-Training buchen


Zeitzone: Europe/Berlin

ADMIN90
ONTAP Administration: What's New in ONTAP 9.0

Dies ist ein FLEX™-Kurs.

Kurssprache: englisch

02.05.2017
London, City
Klassenraum-Training buchen
Online-Training buchen


Zeitzone: Europe/London

ONTAP9ADM
ONTAP 9 Cluster Administration

Dies ist ein FLEX™-Kurs.

Kurssprache: englisch

08.05. - 10.05.2017
Hamburg
Klassenraum-Training buchen
Online-Training buchen


Zeitzone: Europe/Berlin

ONTAP9ADM
ONTAP 9 Cluster Administration

Dies ist ein FLEX™-Kurs.

Kurssprache: englisch

08.05. - 10.05.2017
London, City
Klassenraum-Training buchen
Online-Training buchen


Zeitzone: Europe/London

FPIMPADM
Implementing and Administering the FlexPod Solution

Dies ist ein FLEX™-Kurs.

Kurssprache: englisch

10.05. - 12.05.2017
London, City
Klassenraum-Training buchen
Online-Training buchen


Zeitzone: Europe/London

DATAPROT9
ONTAP 9 Data Protection Administration

Dies ist ein FLEX™-Kurs.

Kurssprache: englisch

11.05. - 12.05.2017
Hamburg
Klassenraum-Training buchen
Online-Training buchen


Zeitzone: Europe/Berlin

DATAPROT9
ONTAP 9 Data Protection Administration

Dies ist ein FLEX™-Kurs.

Kurssprache: deutsch

11.05. - 12.05.2017
Düsseldorf
Klassenraum-Training buchen
Online-Training buchen


Zeitzone: Europe/Berlin

DATAPROT9
ONTAP 9 Data Protection Administration

Dies ist ein FLEX™-Kurs.

Kurssprache: englisch

11.05. - 12.05.2017
London, City
Klassenraum-Training buchen
Online-Training buchen


Zeitzone: Europe/London

ONTAP9ADM
ONTAP 9 Cluster Administration

Dies ist ein FLEX™-Kurs.

Kurssprache: deutsch

15.05. - 17.05.2017
München
Klassenraum-Training buchen
Online-Training buchen


Zeitzone: Europe/Berlin

DATAPROT9
ONTAP 9 Data Protection Administration

Dies ist ein FLEX™-Kurs.

Kurssprache: deutsch

18.05. - 19.05.2017
München
Klassenraum-Training buchen
Online-Training buchen


Zeitzone: Europe/Berlin

BNCA
Basic NetApp Configuration and Administration

Dies ist ein FLEX™-Kurs.

Kurssprache: englisch

22.05. - 23.05.2017
München
Klassenraum-Training buchen
Online-Training buchen


Zeitzone: Europe/Berlin

D7ADM
Data ONTAP 7-Mode Administration

Dies ist ein FLEX™-Kurs.

Kurssprache: englisch

22.05. - 26.05.2017
London, City
Klassenraum-Training buchen
Online-Training buchen


Zeitzone: Europe/London

SANARCH
NetApp Portfolio: Exploring SAN Architectures and Configurations

Dies ist ein FLEX™-Kurs.

Kurssprache: englisch

22.05. - 23.05.2017
London, City
Klassenraum-Training buchen
Online-Training buchen


Zeitzone: Europe/London

ONTAP9ADM
ONTAP 9 Cluster Administration

Dies ist ein FLEX™-Kurs.

Kurssprache: deutsch

22.05. - 24.05.2017
Stuttgart
Klassenraum-Training buchen
Online-Training buchen


Zeitzone: Europe/Berlin

SANIMP
Data ONTAP SAN Implementation

Dies ist ein FLEX™-Kurs.

Kurssprache: englisch

24.05. - 26.05.2017
London, City
Klassenraum-Training buchen
Online-Training buchen


Zeitzone: Europe/London

DATAPROT9
ONTAP 9 Data Protection Administration

Dies ist ein FLEX™-Kurs.

Kurssprache: deutsch

29.05. - 30.05.2017
Stuttgart
Klassenraum-Training buchen
Online-Training buchen


Zeitzone: Europe/Berlin

OCADM
NetApp OnCommand Unified Manager Administration

Dies ist ein FLEX™-Kurs.

Kurssprache: englisch

30.05. - 02.06.2017
London, City
Klassenraum-Training buchen
Online-Training buchen


Zeitzone: Europe/London

ADMIN90
ONTAP Administration: What's New in ONTAP 9.0

Dies ist ein FLEX™-Kurs.

Kurssprache: englisch

31.05.2017
London, City
Klassenraum-Training buchen
Online-Training buchen


Zeitzone: Europe/London

BNCA
Basic NetApp Configuration and Administration

Dies ist ein FLEX™-Kurs.

Kurssprache: englisch

01.06. - 02.06.2017
London, City
Klassenraum-Training buchen
Online-Training buchen


Zeitzone: Europe/London

ONTAP9ADM
ONTAP 9 Cluster Administration

Dies ist ein FLEX™-Kurs.

Kurssprache: englisch

05.06. - 07.06.2017
London, City
Klassenraum-Training buchen
Online-Training buchen


Zeitzone: Europe/London

BNCA
Basic NetApp Configuration and Administration

Dies ist ein FLEX™-Kurs.

Kurssprache: deutsch

06.06. - 07.06.2017
Wien (iTLS)
Klassenraum-Training buchen
Online-Training buchen


Zeitzone: Europe/Vienna

DATAPROT9
ONTAP 9 Data Protection Administration

Dies ist ein FLEX™-Kurs.

Kurssprache: englisch

08.06. - 09.06.2017
London, City
Klassenraum-Training buchen
Online-Training buchen


Zeitzone: Europe/London

ANCDABC87
Accelerated NCDA Boot Camp Data ONTAP 7-Mode

Dies ist ein FLEX™-Kurs.

Kurssprache: englisch

12.06. - 16.06.2017
London, City
Klassenraum-Training buchen
Online-Training buchen


Zeitzone: Europe/London

BNCA
Basic NetApp Configuration and Administration

Dies ist ein FLEX™-Kurs.

Kurssprache: deutsch

12.06. - 13.06.2017
Münster
Klassenraum-Training buchen
Online-Training buchen


Zeitzone: Europe/Berlin

ONTAP9ADM
ONTAP 9 Cluster Administration

Dies ist ein FLEX™-Kurs.

Kurssprache: englisch

12.06. - 14.06.2017
Frankfurt
Klassenraum-Training buchen
Online-Training buchen


Zeitzone: Europe/Berlin

ONTAP9ADM
ONTAP 9 Cluster Administration

Dies ist ein FLEX™-Kurs.

Kurssprache: englisch

19.06. - 21.06.2017
London, City
Klassenraum-Training buchen
Online-Training buchen


Zeitzone: Europe/London

DATAPROT9
ONTAP 9 Data Protection Administration

Dies ist ein FLEX™-Kurs.

Kurssprache: englisch

22.06. - 23.06.2017
Frankfurt
Klassenraum-Training buchen
Online-Training buchen


Zeitzone: Europe/Berlin

DATAPROT9
ONTAP 9 Data Protection Administration

Dies ist ein FLEX™-Kurs.

Kurssprache: englisch

22.06. - 23.06.2017
London, City
Klassenraum-Training buchen
Online-Training buchen


Zeitzone: Europe/London




VMware

VICM
VMware vSphere 6.5: Install, Configure, Manage

Dies ist ein FLEX™-Kurs.

Kurssprache: deutsch

27.03. - 31.03.2017
Berlin
Klassenraum-Training buchen
Online-Training buchen


Zeitzone: Europe/Berlin

VSO
VMware vSphere: Skills for Operators

Dies ist ein FLEX™-Kurs.

Kurssprache: englisch

27.03. - 28.03.2017
London (Int Hse)
Klassenraum-Training buchen
Online-Training buchen


Zeitzone: Europe/London

NSXFT
VMware NSX for Internetworking Experts Fast Track

Dies ist ein FLEX™-Kurs.

Kurssprache: deutsch

03.04. - 07.04.2017
Hamburg
Klassenraum-Training buchen
Online-Training buchen


Zeitzone: Europe/Berlin

VVFT
VMware vSphere 6.0: Fast Track

Dies ist ein FLEX™-Kurs.

Kurssprache: englisch

03.04. - 07.04.2017
London (Int Hse)
Klassenraum-Training buchen
Online-Training buchen


Zeitzone: Europe/London

VSO
VMware vSphere: Skills for Operators

Dies ist ein FLEX™-Kurs.

Kurssprache: deutsch

10.04. - 11.04.2017
Berlin
Klassenraum-Training buchen
Online-Training buchen


Zeitzone: Europe/Berlin

VICM
VMware vSphere 6.5: Install, Configure, Manage

Dies ist ein FLEX™-Kurs.

Kurssprache: deutsch

02.05. - 05.05.2017
Düsseldorf
Klassenraum-Training buchen
Online-Training buchen


Zeitzone: Europe/Berlin

VVFT
VMware vSphere 6.0: Fast Track

Dies ist ein FLEX™-Kurs.

Kurssprache: englisch

08.05. - 12.05.2017
London (Int Hse)
Klassenraum-Training buchen
Online-Training buchen


Zeitzone: Europe/London

VICM
VMware vSphere 6.5: Install, Configure, Manage

Dies ist ein FLEX™-Kurs.

Kurssprache: englisch

08.05. - 12.05.2017
London (Int Hse)
Klassenraum-Training buchen
Online-Training buchen


Zeitzone: Europe/London

VHVICM
VMware Horizon 7: Install, Configure, Manage

Dies ist ein FLEX™-Kurs.

Kurssprache: englisch

22.05. - 26.05.2017
London (mid)
Klassenraum-Training buchen
Online-Training buchen


Zeitzone: Europe/London

VVNA
VMware vSphere on NetApp

Dies ist ein FLEX™-Kurs.

Kurssprache: englisch

12.06. - 16.06.2017
London, City
Klassenraum-Training buchen
Online-Training buchen


Zeitzone: Europe/London

VHVICM
VMware Horizon 7: Install, Configure, Manage

Dies ist ein FLEX™-Kurs.

Kurssprache: englisch

19.06. - 23.06.2017
London (mid)
Klassenraum-Training buchen
Online-Training buchen


Zeitzone: Europe/London

VVFT
VMware vSphere 6.0: Fast Track

Dies ist ein FLEX™-Kurs.

Kurssprache: englisch

19.06. - 23.06.2017
London (mid)
Klassenraum-Training buchen
Online-Training buchen


Zeitzone: Europe/London




Microsoft

20462
Administering Microsoft SQL Server 2014 Databases

Dies ist ein FLEX™-Kurs.

Kurssprache: englisch

27.03. - 31.03.2017
London (mid)
Klassenraum-Training buchen
Online-Training buchen


Zeitzone: Europe/London

20411
Administering Windows Server 2012

Dies ist ein FLEX™-Kurs.

Kurssprache: englisch

27.03. - 31.03.2017
London (Int Hse)
Klassenraum-Training buchen
Online-Training buchen


Zeitzone: Europe/London

10961
Automating Administration with Windows PowerShell

Dies ist ein FLEX™-Kurs.

Kurssprache: englisch

27.03. - 31.03.2017
London (mid)
Klassenraum-Training buchen
Online-Training buchen


Zeitzone: Europe/London

20463
Implementing a Data Warehouse with Microsoft SQL Server

Dies ist ein FLEX™-Kurs.

Kurssprache: englisch

27.03. - 31.03.2017
London (mid)
Klassenraum-Training buchen
Online-Training buchen


Zeitzone: Europe/London

20697-1
Implementing and Managing Windows 10

Dies ist ein FLEX™-Kurs.

Kurssprache: englisch

27.03. - 31.03.2017
London (Int Hse)
Klassenraum-Training buchen
Online-Training buchen


Zeitzone: Europe/London

20411
Administering Windows Server 2012

Dies ist ein FLEX™-Kurs.

Kurssprache: deutsch

03.04. - 07.04.2017
Münster
Klassenraum-Training buchen
Online-Training buchen


Zeitzone: Europe/Berlin

20332
Advanced Solutions of Microsoft SharePoint Server 2013

Dies ist ein FLEX™-Kurs.

Kurssprache: englisch

03.04. - 07.04.2017
Manchester
Klassenraum-Training buchen
Online-Training buchen


Zeitzone: Europe/London

20412
Configuring Advanced Windows Server 2012 Services

Dies ist ein FLEX™-Kurs.

Kurssprache: englisch

03.04. - 07.04.2017
Birmingham
Klassenraum-Training buchen
Online-Training buchen


Zeitzone: Europe/London

20414
Implementing an Advanced Server Infrastructure

Dies ist ein FLEX™-Kurs.

Kurssprache: englisch

03.04. - 07.04.2017
London (Int Hse)
Klassenraum-Training buchen
Online-Training buchen


Zeitzone: Europe/London

20410
Installing and Configuring Windows Server 2012

Dies ist ein FLEX™-Kurs.

Kurssprache: englisch

03.04. - 07.04.2017
London (Int Hse)
Klassenraum-Training buchen
Online-Training buchen


Zeitzone: Europe/London

20410
Installing and Configuring Windows Server 2012

Dies ist ein FLEX™-Kurs.

Kurssprache: englisch

03.04. - 07.04.2017
London (Int Hse)
Klassenraum-Training buchen
Online-Training buchen


Zeitzone: Europe/London

20461
Querying Microsoft SQL Server 2014

Dies ist ein FLEX™-Kurs.

Kurssprache: englisch

03.04. - 07.04.2017
London (Int Hse)
Klassenraum-Training buchen
Online-Training buchen


Zeitzone: Europe/London

10748
Deploying System Center 2012 Configuration Manager

Dies ist ein FLEX™-Kurs.

Kurssprache: englisch

10.04. - 12.04.2017
Manchester
Klassenraum-Training buchen
Online-Training buchen


Zeitzone: Europe/London

10985
Introduction to SQL Databases

Dies ist ein FLEX™-Kurs.

Kurssprache: englisch

10.04. - 12.04.2017
London (Int Hse)
Klassenraum-Training buchen
Online-Training buchen


Zeitzone: Europe/London

20462
Administering Microsoft SQL Server 2014 Databases

Dies ist ein FLEX™-Kurs.

Kurssprache: englisch

13.04. - 17.04.2017
Manchester
Klassenraum-Training buchen
Online-Training buchen


Zeitzone: Europe/London

20341
Core Solutions of Microsoft Exchange Server 2013

Dies ist ein FLEX™-Kurs.

Kurssprache: englisch

18.04. - 21.04.2017
London (mid)
Klassenraum-Training buchen
Online-Training buchen


Zeitzone: Europe/London

20411
Administering Windows Server 2012

Dies ist ein FLEX™-Kurs.

Kurssprache: englisch

24.04. - 28.04.2017
London (Int Hse)
Klassenraum-Training buchen
Online-Training buchen


Zeitzone: Europe/London

10961
Automating Administration with Windows PowerShell

Dies ist ein FLEX™-Kurs.

Kurssprache: englisch

24.04. - 28.04.2017
London (Int Hse)
Klassenraum-Training buchen
Online-Training buchen


Zeitzone: Europe/London

10961
Automating Administration with Windows PowerShell

Dies ist ein FLEX™-Kurs.

Kurssprache: englisch

24.04. - 28.04.2017
Manchester
Klassenraum-Training buchen
Online-Training buchen


Zeitzone: Europe/London

20331
Core Solutions of Microsoft SharePoint Server 2013

Dies ist ein FLEX™-Kurs.

Kurssprache: englisch

24.04. - 28.04.2017
London (Int Hse)
Klassenraum-Training buchen
Online-Training buchen


Zeitzone: Europe/London

20463
Implementing a Data Warehouse with Microsoft SQL Server

Dies ist ein FLEX™-Kurs.

Kurssprache: englisch

24.04. - 28.04.2017
London (mid)
Klassenraum-Training buchen
Online-Training buchen


Zeitzone: Europe/London

20697-1
Implementing and Managing Windows 10

Dies ist ein FLEX™-Kurs.

Kurssprache: englisch

24.04. - 28.04.2017
London (Int Hse)
Klassenraum-Training buchen
Online-Training buchen


Zeitzone: Europe/London

20332
Advanced Solutions of Microsoft SharePoint Server 2013

Dies ist ein FLEX™-Kurs.

Kurssprache: englisch

08.05. - 12.05.2017
London (Int Hse)
Klassenraum-Training buchen
Online-Training buchen


Zeitzone: Europe/London

10961
Automating Administration with Windows PowerShell

Dies ist ein FLEX™-Kurs.

Kurssprache: englisch

08.05. - 12.05.2017
London (Int Hse)
Klassenraum-Training buchen
Online-Training buchen


Zeitzone: Europe/London

20411
Administering Windows Server 2012

Dies ist ein FLEX™-Kurs.

Kurssprache: englisch

15.05. - 19.05.2017
London (Int Hse)
Klassenraum-Training buchen
Online-Training buchen


Zeitzone: Europe/London

20463
Implementing a Data Warehouse with Microsoft SQL Server

Dies ist ein FLEX™-Kurs.

Kurssprache: englisch

15.05. - 19.05.2017
London (mid)
Klassenraum-Training buchen
Online-Training buchen


Zeitzone: Europe/London

20410
Installing and Configuring Windows Server 2012

Dies ist ein FLEX™-Kurs.

Kurssprache: englisch

15.05. - 19.05.2017
London (Int Hse)
Klassenraum-Training buchen
Online-Training buchen


Zeitzone: Europe/London

10985
Introduction to SQL Databases

Dies ist ein FLEX™-Kurs.

Kurssprache: englisch

15.05. - 17.05.2017
Manchester
Klassenraum-Training buchen
Online-Training buchen


Zeitzone: Europe/London

20461
Querying Microsoft SQL Server 2014

Dies ist ein FLEX™-Kurs.

Kurssprache: englisch

15.05. - 19.05.2017
London (mid)
Klassenraum-Training buchen
Online-Training buchen


Zeitzone: Europe/London

20697-1
Implementing and Managing Windows 10

Dies ist ein FLEX™-Kurs.

Kurssprache: englisch

22.05. - 26.05.2017
London (Int Hse)
Klassenraum-Training buchen
Online-Training buchen


Zeitzone: Europe/London

10961
Automating Administration with Windows PowerShell

Dies ist ein FLEX™-Kurs.

Kurssprache: englisch

23.05. - 26.05.2017
London (Int Hse)
Klassenraum-Training buchen
Online-Training buchen


Zeitzone: Europe/London

20341
Core Solutions of Microsoft Exchange Server 2013

Dies ist ein FLEX™-Kurs.

Kurssprache: englisch

24.05. - 26.05.2017
London (Int Hse)
Klassenraum-Training buchen
Online-Training buchen


Zeitzone: Europe/London

10748
Deploying System Center 2012 Configuration Manager

Dies ist ein FLEX™-Kurs.

Kurssprache: englisch

31.05. - 02.06.2017
London (mid)
Klassenraum-Training buchen
Online-Training buchen


Zeitzone: Europe/London

10961
Automating Administration with Windows PowerShell

Dies ist ein FLEX™-Kurs.

Kurssprache: englisch

05.06. - 09.06.2017
Birmingham
Klassenraum-Training buchen
Online-Training buchen


Zeitzone: Europe/London

10961
Automating Administration with Windows PowerShell

Dies ist ein FLEX™-Kurs.

Kurssprache: englisch

05.06. - 09.06.2017
London (Int Hse)
Klassenraum-Training buchen
Online-Training buchen


Zeitzone: Europe/London

MOC 20246
Monitoring and Operating a Private Cloud

Dies ist ein FLEX™-Kurs.

Kurssprache: englisch

05.06. - 09.06.2017
London (Int Hse)
Klassenraum-Training buchen
Online-Training buchen


Zeitzone: Europe/London

10985
Introduction to SQL Databases

Dies ist ein FLEX™-Kurs.

Kurssprache: englisch

07.06. - 09.06.2017
London (Int Hse)
Klassenraum-Training buchen
Online-Training buchen


Zeitzone: Europe/London

20462
Administering Microsoft SQL Server 2014 Databases

Dies ist ein FLEX™-Kurs.

Kurssprache: englisch

12.06. - 16.06.2017
London (mid)
Klassenraum-Training buchen
Online-Training buchen


Zeitzone: Europe/London

MOC 20247
Configuring and Deploying a Private Cloud

Dies ist ein FLEX™-Kurs.

Kurssprache: englisch

12.06. - 16.06.2017
London (Int Hse)
Klassenraum-Training buchen
Online-Training buchen


Zeitzone: Europe/London

20410
Installing and Configuring Windows Server 2012

Dies ist ein FLEX™-Kurs.

Kurssprache: englisch

12.06. - 16.06.2017
London (Int Hse)
Klassenraum-Training buchen
Online-Training buchen


Zeitzone: Europe/London

20410
Installing and Configuring Windows Server 2012

Dies ist ein FLEX™-Kurs.

Kurssprache: englisch

12.06. - 16.06.2017
London (Int Hse)
Klassenraum-Training buchen
Online-Training buchen


Zeitzone: Europe/London

20461
Querying Microsoft SQL Server 2014

Dies ist ein FLEX™-Kurs.

Kurssprache: englisch

12.06. - 16.06.2017
London (mid)
Klassenraum-Training buchen
Online-Training buchen


Zeitzone: Europe/London

20411
Administering Windows Server 2012

Dies ist ein FLEX™-Kurs.

Kurssprache: englisch

19.06. - 23.06.2017
London (Int Hse)
Klassenraum-Training buchen
Online-Training buchen


Zeitzone: Europe/London

20411
Administering Windows Server 2012

Dies ist ein FLEX™-Kurs.

Kurssprache: englisch

19.06. - 23.06.2017
London (Int Hse)
Klassenraum-Training buchen
Online-Training buchen


Zeitzone: Europe/London

10961
Automating Administration with Windows PowerShell

Dies ist ein FLEX™-Kurs.

Kurssprache: englisch

19.06. - 23.06.2017
London (Int Hse)
Klassenraum-Training buchen
Online-Training buchen


Zeitzone: Europe/London

10961
Automating Administration with Windows PowerShell

Dies ist ein FLEX™-Kurs.

Kurssprache: englisch

19.06. - 23.06.2017
Birmingham
Klassenraum-Training buchen
Online-Training buchen


Zeitzone: Europe/London

20466
Implementing Data Models and Reports with Microsoft® SQL Server®

Dies ist ein FLEX™-Kurs.

Kurssprache: englisch

19.06. - 23.06.2017
London (Int Hse)
Klassenraum-Training buchen
Online-Training buchen


Zeitzone: Europe/London




IT Training by Fast Lane

NWF
Networking & TCP/IP Fundamentals

Dies ist ein FLEX™-Kurs.

Kurssprache: deutsch

10.04. - 12.04.2017
Hamburg
Klassenraum-Training buchen
Online-Training buchen


Zeitzone: Europe/Berlin

TTCP
Troubleshooting TCP/IP Fundamentals

Dies ist ein FLEX™-Kurs.

Kurssprache: deutsch

18.04. - 19.04.2017
Hamburg
Klassenraum-Training buchen
Online-Training buchen


Zeitzone: Europe/Berlin

NWF
Networking & TCP/IP Fundamentals

Dies ist ein FLEX™-Kurs.

Kurssprache: englisch

24.04. - 26.04.2017
München
Klassenraum-Training buchen
Online-Training buchen


Zeitzone: Europe/Berlin

TTCP
Troubleshooting TCP/IP Fundamentals

Dies ist ein FLEX™-Kurs.

Kurssprache: englisch

27.04. - 28.04.2017
München
Klassenraum-Training buchen
Online-Training buchen


Zeitzone: Europe/Berlin

PAPW
Packet Analysis Power Workshop

Dies ist ein FLEX™-Kurs.

Kurssprache: englisch

08.05. - 12.05.2017
London, City
Klassenraum-Training buchen
Online-Training buchen


Zeitzone: Europe/London

APAW
Advanced Packet Analysis with Wireshark Analyzer

Dies ist ein FLEX™-Kurs.

Kurssprache: englisch

10.05. - 12.05.2017
London, City
Klassenraum-Training buchen
Online-Training buchen


Zeitzone: Europe/London

APAW
Advanced Packet Analysis with Wireshark Analyzer

Dies ist ein FLEX™-Kurs.

Kurssprache: englisch

29.05. - 31.05.2017
Frankfurt
Klassenraum-Training buchen
Online-Training buchen


Zeitzone: Europe/Berlin

PAPW
Packet Analysis Power Workshop

Dies ist ein FLEX™-Kurs.

Kurssprache: englisch

29.05. - 02.06.2017
Frankfurt
Klassenraum-Training buchen
Online-Training buchen


Zeitzone: Europe/Berlin




Wireshark

PAW
Packet Analysis with Wireshark Analyzer

Dies ist ein FLEX™-Kurs.

Kurssprache: englisch

08.05. - 09.05.2017
London, City
Klassenraum-Training buchen
Online-Training buchen


Zeitzone: Europe/London

PAW
Packet Analysis with Wireshark Analyzer

Dies ist ein FLEX™-Kurs.

Kurssprache: englisch

29.05. - 30.05.2017
Frankfurt
Klassenraum-Training buchen
Online-Training buchen


Zeitzone: Europe/Berlin




AWS

AWSA
Architecting on AWS

Dies ist ein FLEX™-Kurs.

Kurssprache: englisch

27.03. - 29.03.2017
London (mid)
Klassenraum-Training buchen
Online-Training buchen


Zeitzone: Europe/London

ACSAA-BUNDLE
AWS Certified Solutions Architect Associate Bundle

Dies ist ein FLEX™-Kurs.

Kurssprache: deutsch

27.03. - 30.03.2017
Hamburg
Klassenraum-Training buchen
Online-Training buchen


Zeitzone: Europe/Berlin

AWSE
AWS Technical Essentials

Dies ist ein FLEX™-Kurs.

Kurssprache: deutsch

27.03.2017
Hamburg
Klassenraum-Training buchen
Online-Training buchen


Zeitzone: Europe/Berlin

AWSA
Architecting on AWS

Dies ist ein FLEX™-Kurs.

Kurssprache: deutsch

28.03. - 30.03.2017
Hamburg
Klassenraum-Training buchen
Online-Training buchen


Zeitzone: Europe/Berlin

AWSA
Architecting on AWS

Dies ist ein FLEX™-Kurs.

Kurssprache: englisch

03.04. - 05.04.2017
London (Int Hse)
Klassenraum-Training buchen
Online-Training buchen


Zeitzone: Europe/London

ACSAA
AWS Certified Solutions Architect - Associate Certification Workshop

Dies ist ein FLEX™-Kurs.

Kurssprache: englisch

03.04.2017
London (Int Hse)
Klassenraum-Training buchen
Online-Training buchen


Zeitzone: Europe/London

AWSSO
Security Operations on AWS

Dies ist ein FLEX™-Kurs.

Kurssprache: englisch

03.04. - 05.04.2017
London (Int Hse)
Klassenraum-Training buchen
Online-Training buchen


Zeitzone: Europe/London

AWSSYS
Systems Operations on AWS

Dies ist ein FLEX™-Kurs.

Kurssprache: deutsch

03.04. - 05.04.2017
Hamburg
Klassenraum-Training buchen
Online-Training buchen


Zeitzone: Europe/Berlin

AWSE
AWS Technical Essentials

Dies ist ein FLEX™-Kurs.

Kurssprache: englisch

07.04.2017
London (Int Hse)
Klassenraum-Training buchen
Online-Training buchen


Zeitzone: Europe/London

AWSBE
AWS Business Essentials

Dies ist ein FLEX™-Kurs.

Kurssprache: englisch

10.04.2017
London (Int Hse)
Klassenraum-Training buchen
Online-Training buchen


Zeitzone: Europe/London

ACSAA-BUNDLE
AWS Certified Solutions Architect Associate Bundle

Dies ist ein FLEX™-Kurs.

Kurssprache: deutsch

10.04. - 13.04.2017
Berlin
Klassenraum-Training buchen
Online-Training buchen


Zeitzone: Europe/Berlin

AWSE
AWS Technical Essentials

Dies ist ein FLEX™-Kurs.

Kurssprache: deutsch

10.04.2017
Berlin
Klassenraum-Training buchen
Online-Training buchen


Zeitzone: Europe/Berlin

AWSSYS
Systems Operations on AWS

Dies ist ein FLEX™-Kurs.

Kurssprache: englisch

10.04. - 12.04.2017
London (Int Hse)
Klassenraum-Training buchen
Online-Training buchen


Zeitzone: Europe/London

AWSAA
Advanced Architecting on AWS

Dies ist ein FLEX™-Kurs.

Kurssprache: englisch

11.04. - 13.04.2017
London (Int Hse)
Klassenraum-Training buchen
Online-Training buchen


Zeitzone: Europe/London

AWSA
Architecting on AWS

Dies ist ein FLEX™-Kurs.

Kurssprache: englisch

11.04. - 13.04.2017
London (Int Hse)
Klassenraum-Training buchen
Online-Training buchen


Zeitzone: Europe/London

AWSA
Architecting on AWS

Dies ist ein FLEX™-Kurs.

Kurssprache: deutsch

11.04. - 13.04.2017
Berlin
Klassenraum-Training buchen
Online-Training buchen


Zeitzone: Europe/Berlin

AWSBE
AWS Business Essentials

Dies ist ein FLEX™-Kurs.

Kurssprache: deutsch

18.04.2017
Berlin
Klassenraum-Training buchen
Online-Training buchen


Zeitzone: Europe/Berlin

AWSD
Developing on AWS

Dies ist ein FLEX™-Kurs.

Kurssprache: englisch

18.04. - 20.04.2017
London (Int Hse)
Klassenraum-Training buchen
Online-Training buchen


Zeitzone: Europe/London

AWSAA
Advanced Architecting on AWS

Dies ist ein FLEX™-Kurs.

Kurssprache: deutsch

19.04. - 21.04.2017
Berlin
Klassenraum-Training buchen
Online-Training buchen


Zeitzone: Europe/Berlin

BDAWS
Big Data on AWS

Dies ist ein FLEX™-Kurs.

Kurssprache: englisch

19.04. - 21.04.2017
Frankfurt
Klassenraum-Training buchen
Online-Training buchen


Zeitzone: Europe/Berlin

AWSSO
Security Operations on AWS

Dies ist ein FLEX™-Kurs.

Kurssprache: deutsch

19.04. - 21.04.2017
Frankfurt
Klassenraum-Training buchen
Online-Training buchen


Zeitzone: Europe/Berlin

AWSAA
Advanced Architecting on AWS

Dies ist ein FLEX™-Kurs.

Kurssprache: deutsch

24.04. - 26.04.2017
Zürich
Klassenraum-Training buchen
Online-Training buchen


Zeitzone: Europe/Zurich

AWSD
Developing on AWS

Dies ist ein FLEX™-Kurs.

Kurssprache: deutsch

24.04. - 26.04.2017
Berlin
Klassenraum-Training buchen
Online-Training buchen


Zeitzone: Europe/Berlin

AWSBE
AWS Business Essentials

Dies ist ein FLEX™-Kurs.

Kurssprache: deutsch

27.04.2017
Zürich
Klassenraum-Training buchen
Online-Training buchen


Zeitzone: Europe/Zurich

AWSA
Architecting on AWS

Dies ist ein FLEX™-Kurs.

Kurssprache: englisch

02.05. - 04.05.2017
London (Int Hse)
Klassenraum-Training buchen
Online-Training buchen


Zeitzone: Europe/London

ACSAA
AWS Certified Solutions Architect - Associate Certification Workshop

Dies ist ein FLEX™-Kurs.

Kurssprache: englisch

02.05.2017
London (Int Hse)
Klassenraum-Training buchen
Online-Training buchen


Zeitzone: Europe/London

ACSAA-BUNDLE
AWS Certified Solutions Architect Associate Bundle

Dies ist ein FLEX™-Kurs.

Kurssprache: deutsch

02.05. - 05.05.2017
München
Klassenraum-Training buchen
Online-Training buchen


Zeitzone: Europe/Berlin

AWSE
AWS Technical Essentials

Dies ist ein FLEX™-Kurs.

Kurssprache: deutsch

02.05.2017
München
Klassenraum-Training buchen
Online-Training buchen


Zeitzone: Europe/Berlin

AWSE
AWS Technical Essentials

Dies ist ein FLEX™-Kurs.

Kurssprache: deutsch

02.05.2017
Nürnberg
Klassenraum-Training buchen
Online-Training buchen


Zeitzone: Europe/Berlin

AWSSYS
Systems Operations on AWS

Dies ist ein FLEX™-Kurs.

Kurssprache: englisch

02.05. - 04.05.2017
London (Int Hse)
Klassenraum-Training buchen
Online-Training buchen


Zeitzone: Europe/London

AWSAA
Advanced Architecting on AWS

Dies ist ein FLEX™-Kurs.

Kurssprache: englisch

03.05. - 05.05.2017
London (Int Hse)
Klassenraum-Training buchen
Online-Training buchen


Zeitzone: Europe/London

AWSA
Architecting on AWS

Dies ist ein FLEX™-Kurs.

Kurssprache: deutsch

03.05. - 05.05.2017
München
Klassenraum-Training buchen
Online-Training buchen


Zeitzone: Europe/Berlin

AWSA
Architecting on AWS

Dies ist ein FLEX™-Kurs.

Kurssprache: deutsch

03.05. - 05.05.2017
Nürnberg
Klassenraum-Training buchen
Online-Training buchen


Zeitzone: Europe/Berlin

AWSSO
Security Operations on AWS

Dies ist ein FLEX™-Kurs.

Kurssprache: deutsch

03.05. - 05.05.2017
Zürich
Klassenraum-Training buchen
Online-Training buchen


Zeitzone: Europe/Zurich

AWSSYS
Systems Operations on AWS

Dies ist ein FLEX™-Kurs.

Kurssprache: englisch

05.05. - 09.05.2017
London (Int Hse)
Klassenraum-Training buchen
Online-Training buchen


Zeitzone: Europe/London

AWSE
AWS Technical Essentials

Dies ist ein FLEX™-Kurs.

Kurssprache: englisch

08.05.2017
London (Int Hse)
Klassenraum-Training buchen
Online-Training buchen


Zeitzone: Europe/London

AWSD
Developing on AWS

Dies ist ein FLEX™-Kurs.

Kurssprache: englisch

08.05. - 10.05.2017
London (Int Hse)
Klassenraum-Training buchen
Online-Training buchen


Zeitzone: Europe/London

AWSD
Developing on AWS

Dies ist ein FLEX™-Kurs.

Kurssprache: deutsch

08.05. - 10.05.2017
Zürich
Klassenraum-Training buchen
Online-Training buchen


Zeitzone: Europe/Zurich

AWSSYS
Systems Operations on AWS

Dies ist ein FLEX™-Kurs.

Kurssprache: deutsch

08.05. - 10.05.2017
Berlin
Klassenraum-Training buchen
Online-Training buchen


Zeitzone: Europe/Berlin

AWSA
Architecting on AWS

Dies ist ein FLEX™-Kurs.

Kurssprache: englisch

10.05. - 12.05.2017
London (Int Hse)
Klassenraum-Training buchen
Online-Training buchen


Zeitzone: Europe/London

ACSAA
AWS Certified Solutions Architect - Associate Certification Workshop

Dies ist ein FLEX™-Kurs.

Kurssprache: deutsch

11.05.2017
Berlin
Klassenraum-Training buchen
Online-Training buchen


Zeitzone: Europe/Berlin

ACSAP
AWS Certified Solutions Architect - Professional Certification Workshop

Dies ist ein FLEX™-Kurs.

Kurssprache: englisch

11.05.2017
London (mid)
Klassenraum-Training buchen
Online-Training buchen


Zeitzone: Europe/London

ACSAP
AWS Certified Solutions Architect - Professional Certification Workshop

Dies ist ein FLEX™-Kurs.

Kurssprache: deutsch

12.05.2017
Berlin
Klassenraum-Training buchen
Online-Training buchen


Zeitzone: Europe/Berlin

BDAWS
Big Data on AWS

Dies ist ein FLEX™-Kurs.

Kurssprache: deutsch

15.05. - 17.05.2017
Frankfurt
Klassenraum-Training buchen
Online-Training buchen


Zeitzone: Europe/Berlin

AWSSYS
Systems Operations on AWS

Dies ist ein FLEX™-Kurs.

Kurssprache: deutsch

15.05. - 17.05.2017
Zürich
Klassenraum-Training buchen
Online-Training buchen


Zeitzone: Europe/Zurich

ACSAA
AWS Certified Solutions Architect - Associate Certification Workshop

Dies ist ein FLEX™-Kurs.

Kurssprache: deutsch

18.05.2017
Zürich
Klassenraum-Training buchen
Online-Training buchen


Zeitzone: Europe/Zurich

ACSAP
AWS Certified Solutions Architect - Professional Certification Workshop

Dies ist ein FLEX™-Kurs.

Kurssprache: deutsch

19.05.2017
Zürich
Klassenraum-Training buchen
Online-Training buchen


Zeitzone: Europe/Zurich

BDAWS
Big Data on AWS

Dies ist ein FLEX™-Kurs.

Kurssprache: deutsch

22.05. - 24.05.2017
Zürich
Klassenraum-Training buchen
Online-Training buchen


Zeitzone: Europe/Zurich

AWSDEVOPS
DevOps Engineering on AWS

Dies ist ein FLEX™-Kurs.

Kurssprache: deutsch

22.05. - 24.05.2017
Frankfurt
Klassenraum-Training buchen
Online-Training buchen


Zeitzone: Europe/Berlin

ACSAA-BUNDLE
AWS Certified Solutions Architect Associate Bundle

Dies ist ein FLEX™-Kurs.

Kurssprache: deutsch

29.05. - 01.06.2017
Zürich
Klassenraum-Training buchen
Online-Training buchen


Zeitzone: Europe/Zurich

AWSE
AWS Technical Essentials

Dies ist ein FLEX™-Kurs.

Kurssprache: deutsch

29.05.2017
Zürich
Klassenraum-Training buchen
Online-Training buchen


Zeitzone: Europe/Zurich

AWSA
Architecting on AWS

Dies ist ein FLEX™-Kurs.

Kurssprache: deutsch

30.05. - 01.06.2017
Zürich
Klassenraum-Training buchen
Online-Training buchen


Zeitzone: Europe/Zurich

AWSA
Architecting on AWS

Dies ist ein FLEX™-Kurs.

Kurssprache: englisch

30.05. - 01.06.2017
London (Int Hse)
Klassenraum-Training buchen
Online-Training buchen


Zeitzone: Europe/London

AWSE
AWS Technical Essentials

Dies ist ein FLEX™-Kurs.

Kurssprache: englisch

02.06.2017
London (Int Hse)
Klassenraum-Training buchen
Online-Training buchen


Zeitzone: Europe/London

AWSA
Architecting on AWS

Dies ist ein FLEX™-Kurs.

Kurssprache: englisch

05.06. - 07.06.2017
London (Int Hse)
Klassenraum-Training buchen
Online-Training buchen


Zeitzone: Europe/London

AWSBE
AWS Business Essentials

Dies ist ein FLEX™-Kurs.

Kurssprache: englisch

05.06.2017
London (Int Hse)
Klassenraum-Training buchen
Online-Training buchen


Zeitzone: Europe/London

AWSSO
Security Operations on AWS

Dies ist ein FLEX™-Kurs.

Kurssprache: englisch

05.06. - 07.06.2017
London (Int Hse)
Klassenraum-Training buchen
Online-Training buchen


Zeitzone: Europe/London

ACSAA
AWS Certified Solutions Architect - Associate Certification Workshop

Dies ist ein FLEX™-Kurs.

Kurssprache: englisch

06.06.2017
London (Int Hse)
Klassenraum-Training buchen
Online-Training buchen


Zeitzone: Europe/London

ACSAA-BUNDLE
AWS Certified Solutions Architect Associate Bundle

Dies ist ein FLEX™-Kurs.

Kurssprache: deutsch

06.06. - 09.06.2017
Frankfurt
Klassenraum-Training buchen
Online-Training buchen


Zeitzone: Europe/Berlin

AWSE
AWS Technical Essentials

Dies ist ein FLEX™-Kurs.

Kurssprache: deutsch

06.06.2017
Frankfurt
Klassenraum-Training buchen
Online-Training buchen


Zeitzone: Europe/Berlin

AWSA
Architecting on AWS

Dies ist ein FLEX™-Kurs.

Kurssprache: deutsch

07.06. - 09.06.2017
Frankfurt
Klassenraum-Training buchen
Online-Training buchen


Zeitzone: Europe/Berlin

AWSDEVOPS
DevOps Engineering on AWS

Dies ist ein FLEX™-Kurs.

Kurssprache: englisch

07.06. - 09.06.2017
London (Int Hse)
Klassenraum-Training buchen
Online-Training buchen


Zeitzone: Europe/London

AWSSO
Security Operations on AWS

Dies ist ein FLEX™-Kurs.

Kurssprache: deutsch

07.06. - 09.06.2017
München
Klassenraum-Training buchen
Online-Training buchen


Zeitzone: Europe/Berlin

AWSA
Architecting on AWS

Dies ist ein FLEX™-Kurs.

Kurssprache: englisch

08.06. - 12.06.2017
London (Int Hse)
Klassenraum-Training buchen
Online-Training buchen


Zeitzone: Europe/London

ACSAP
AWS Certified Solutions Architect - Professional Certification Workshop

Dies ist ein FLEX™-Kurs.

Kurssprache: englisch

08.06.2017
London (mid)
Klassenraum-Training buchen
Online-Training buchen


Zeitzone: Europe/London

AWSM
Migrating to AWS

Dies ist ein FLEX™-Kurs.

Kurssprache: deutsch

08.06. - 09.06.2017
Hamburg
Klassenraum-Training buchen
Online-Training buchen


Zeitzone: Europe/Berlin

AWSAA
Advanced Architecting on AWS

Dies ist ein FLEX™-Kurs.

Kurssprache: deutsch

12.06. - 14.06.2017
Frankfurt
Klassenraum-Training buchen
Online-Training buchen


Zeitzone: Europe/Berlin

AWSA
Architecting on AWS

Dies ist ein FLEX™-Kurs.

Kurssprache: englisch

13.06. - 15.06.2017
London (Int Hse)
Klassenraum-Training buchen
Online-Training buchen


Zeitzone: Europe/London

AWSBE
AWS Business Essentials

Dies ist ein FLEX™-Kurs.

Kurssprache: deutsch

16.06.2017
Frankfurt
Klassenraum-Training buchen
Online-Training buchen


Zeitzone: Europe/Berlin

AWSSYS
Systems Operations on AWS

Dies ist ein FLEX™-Kurs.

Kurssprache: englisch

16.06. - 20.06.2017
London (Int Hse)
Klassenraum-Training buchen
Online-Training buchen


Zeitzone: Europe/London

ACSAA-BUNDLE
AWS Certified Solutions Architect Associate Bundle

Dies ist ein FLEX™-Kurs.

Kurssprache: deutsch

19.06. - 22.06.2017
Berlin
Klassenraum-Training buchen
Online-Training buchen


Zeitzone: Europe/Berlin

AWSE
AWS Technical Essentials

Dies ist ein FLEX™-Kurs.

Kurssprache: deutsch

19.06.2017
Berlin
Klassenraum-Training buchen
Online-Training buchen


Zeitzone: Europe/Berlin

AWSD
Developing on AWS

Dies ist ein FLEX™-Kurs.

Kurssprache: deutsch

19.06. - 21.06.2017
Frankfurt
Klassenraum-Training buchen
Online-Training buchen


Zeitzone: Europe/Berlin

AWSA
Architecting on AWS

Dies ist ein FLEX™-Kurs.

Kurssprache: deutsch

20.06. - 22.06.2017
Berlin
Klassenraum-Training buchen
Online-Training buchen


Zeitzone: Europe/Berlin

AWSSYS
Systems Operations on AWS

Dies ist ein FLEX™-Kurs.

Kurssprache: englisch

21.06. - 23.06.2017
London (Int Hse)
Klassenraum-Training buchen
Online-Training buchen


Zeitzone: Europe/London




Barracuda

BTW300
Barracuda Web Application Firewall Certified Engineer

Dies ist ein FLEX™-Kurs.

Kurssprache: deutsch

19.04. - 21.04.2017
Berlin
Klassenraum-Training buchen
Online-Training buchen


Zeitzone: Europe/Berlin

BTN300
Barracuda NextGen Firewall F Certified Engineer

Dies ist ein FLEX™-Kurs.

Kurssprache: deutsch

24.04. - 28.04.2017
Hamburg
Klassenraum-Training buchen
Online-Training buchen


Zeitzone: Europe/Berlin

BTN300
Barracuda NextGen Firewall F Certified Engineer

Dies ist ein FLEX™-Kurs.

Kurssprache: englisch

24.04. - 28.04.2017
London, City
Klassenraum-Training buchen
Online-Training buchen


Zeitzone: Europe/London

BTN350
Barracuda NextGen Firewall F Certified Expert

Dies ist ein FLEX™-Kurs.

Kurssprache: englisch

08.05. - 12.05.2017
London, City
Klassenraum-Training buchen
Online-Training buchen


Zeitzone: Europe/London

BTN300
Barracuda NextGen Firewall F Certified Engineer

Dies ist ein FLEX™-Kurs.

Kurssprache: deutsch

15.05. - 19.05.2017
Wien (iTLS)
Klassenraum-Training buchen
Online-Training buchen


Zeitzone: Europe/Vienna

BTN300
Barracuda NextGen Firewall F Certified Engineer

Dies ist ein FLEX™-Kurs.

Kurssprache: deutsch

15.05. - 19.05.2017
Zürich
Klassenraum-Training buchen
Online-Training buchen


Zeitzone: Europe/Zurich

BTN300
Barracuda NextGen Firewall F Certified Engineer

Dies ist ein FLEX™-Kurs.

Kurssprache: deutsch

15.05. - 19.05.2017
München
Klassenraum-Training buchen
Online-Training buchen


Zeitzone: Europe/Berlin

BTW300
Barracuda Web Application Firewall Certified Engineer

Dies ist ein FLEX™-Kurs.

Kurssprache: englisch

31.05. - 02.06.2017
London, City
Klassenraum-Training buchen
Online-Training buchen


Zeitzone: Europe/London

BTW300
Barracuda Web Application Firewall Certified Engineer

Dies ist ein FLEX™-Kurs.

Kurssprache: deutsch

06.06. - 08.06.2017
Zürich
Klassenraum-Training buchen
Online-Training buchen


Zeitzone: Europe/Zurich

BTN300
Barracuda NextGen Firewall F Certified Engineer

Dies ist ein FLEX™-Kurs.

Kurssprache: englisch

12.06. - 16.06.2017
London, City
Klassenraum-Training buchen
Online-Training buchen


Zeitzone: Europe/London

BTW300
Barracuda Web Application Firewall Certified Engineer

Dies ist ein FLEX™-Kurs.

Kurssprache: deutsch

12.06. - 14.06.2017
Hamburg
Klassenraum-Training buchen
Online-Training buchen


Zeitzone: Europe/Berlin

BTN300
Barracuda NextGen Firewall F Certified Engineer

Dies ist ein FLEX™-Kurs.

Kurssprache: deutsch

19.06. - 23.06.2017
Berlin
Klassenraum-Training buchen
Online-Training buchen


Zeitzone: Europe/Berlin




Juniper Networks

IJOS
Introduction to the Junos Operating System

Dies ist ein FLEX™-Kurs.

Kurssprache: deutsch

19.04. - 21.04.2017
München
Klassenraum-Training buchen
Online-Training buchen


Zeitzone: Europe/Berlin

IJOS
Introduction to the Junos Operating System

Dies ist ein FLEX™-Kurs.

Kurssprache: deutsch

19.04. - 21.04.2017
Berlin
Klassenraum-Training buchen
Online-Training buchen


Zeitzone: Europe/Berlin

IJOS
Introduction to the Junos Operating System

Dies ist ein FLEX™-Kurs.

Kurssprache: deutsch

22.05. - 24.05.2017
Frankfurt
Klassenraum-Training buchen
Online-Training buchen


Zeitzone: Europe/Berlin

IJOS
Introduction to the Junos Operating System

Dies ist ein FLEX™-Kurs.

Kurssprache: deutsch

22.05. - 24.05.2017
Stuttgart
Klassenraum-Training buchen
Online-Training buchen


Zeitzone: Europe/Berlin

IJOS
Introduction to the Junos Operating System

Dies ist ein FLEX™-Kurs.

Kurssprache: deutsch

14.06. - 16.06.2017
Hamburg
Klassenraum-Training buchen
Online-Training buchen


Zeitzone: Europe/Berlin

IJOS
Introduction to the Junos Operating System

Dies ist ein FLEX™-Kurs.

Kurssprache: deutsch

14.06. - 16.06.2017
Düsseldorf
Klassenraum-Training buchen
Online-Training buchen


Zeitzone: Europe/Berlin